Research Results from Western Sydney University Pilot Study
There has been a great deal of research conducted on the impact of the Award in terms of the qualities young people learn through participation in the program. The vast majority of research to date is based on qualitative (or anecdotal) evidence. In 2015, a research team from Western Sydney University volunteered their time and know-how to develop and pilot research to provide an approach with quantifiable results. The aim was to provide statistical data to demonstrate which 'learnings' can be directly attributed to participation in the Award program.
The results of the pilot study show that improvements to a Participant's self-confidence, ability to cope with change (resilience), leadership, overall effectiveness and active involvement could be directly attributed to participation in the Duke of Edinburgh's International Award and could also be measured. It also found that the Award impacted the learning of the qualities of time efficiency, self-efficacy, social effectiveness, co-operative teamwork, stress management, and, external locus of control can also be attributed to the current set up of the Award, but in a less compelling manner.

Methodology
The research involved current NSW Award Participants completing a survey questionnaire as well as a sample of these Participants attending a focus group session. The researchers used the ROPELOC instrument to gain quantitative survey results. The ROPELOC instrument measures key psychological and behavioural domains that constitute 'life effectiveness'. It is specifically designed to be sensitive to the effects of experience-based intervention programs, such as the Award. The ROPELOC instrument contains 14 scales; including personal abilities and beliefs (Self-Confidence, Self-Efficacy, Stress Management, Open Thinking), social abilities (Social Effectiveness, Cooperative Teamwork, Leadership Ability), organisational skills (Time Management, Quality Seeking, Coping with Change) an 'energy' scale called Active Involvement and a measure of overall effectiveness in all aspects of life. These results were correlated with qualitative results from interviews and focus groups. A correlation is a statistic which ascertains whether two variables are associated with each other in a non-random fashion. In this instance, whether possessing an attribute such as 'Leadership Ability' by a participant is associated with their attributions that participating in the Award helped them develop that ability. Variables can be positively or negatively correlated.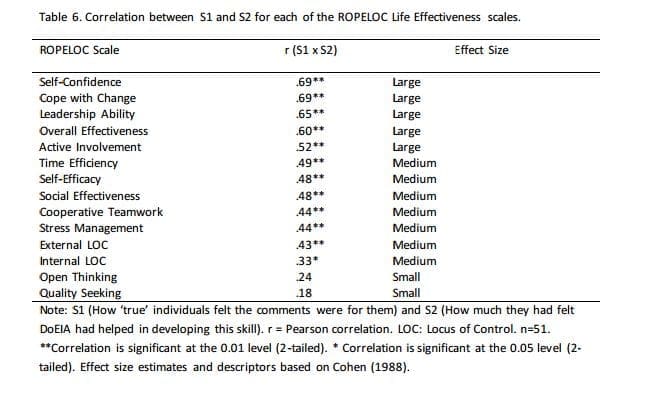 Read the Full Report
2015 Western Sydney University: Learner Attribution Theory & The Duke of Edinburgh's International Award (Full report)