As part of celebrating our 60th Anniversary of the Award in Australia, Duke of Ed Vic are showcasing stories from our Participants about their Award journey and the impact it's had on their lives. These stories help inspire others and help us encourage more young people to begin their Award.
Each month we run a draw of Participants who are interested to tell their Award story. The Participant who wins the draw becomes our Star of the Month. The Star gets their story featured here (as well as on our social handles) and wins a $100 voucher of their choice to spend at Ticketek, Kathmandu or Apple.
Interview with Award Holder Maha – Star of the Month – July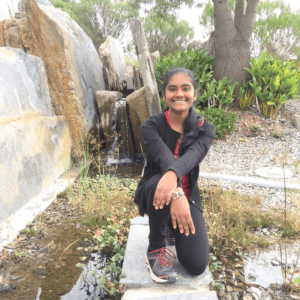 Why did you decide to become involved with the Award?
I always believe that the hardest things in life are also the most worthwhile. I decided to become involved with the Award because I wanted to challenge myself to do something I have never done before, and have new experiences. I was also looking forward to the sense of accomplishment after completing the Award.
What were the most memorable parts of your Award experience?
The most memorable part of my experience was definitely meeting new people and trying new things. I became involved in a reading and writing club, allowing me to meet more people with similar interests. Through my Voluntary Service, I met other Assistant Award Leaders and learned leadership skills I now use in my everyday life. I'm still good friends with many of these people, and the memories I've had with them are by far the most memorable part of the Award.
What has been the biggest challenge in your life, either before starting the Award or during?
The biggest challenge during the Award, and perhaps even before, is definitely keeping up with my goals. I often create a New Year's resolution which dissolves within the first two weeks! Continuously logging my actions towards achieving my goal during the Award has kept me in check. Moreover, the sense of accomplishment when I complete my goal has motivated me to keep trying to create and complete my own personal goals.
 Has the Award helped you overcome any challenges you have faced?
Before the Award, I found myself often giving up when something became too difficult. The Award has made me much more resilient and has allowed me to look at challenges with different perspectives and has taught me that mistakes are simply the path to success. This Award has helped me overcome the greatest challenge of them all- giving up too easily.
How do you expect the Award will help you later in life, or what impact will completing an Award have on you? 
I can already see myself becoming a more confident person, who is ready to try new things. I believe this Award will continue to encourage me to talk to new people and be more positive in life. My resilience may also improve, especially since the Award makes me face new challenges and presents me with the best reward-a personal sense of accomplishment.
What will you take/have you taken away from your Award experience?
I'll take away all the memorable experiences and newfound skills such as leadership. I now have a new hobby too-writing. I hope to walk away as a more confident and resilient person. But most importantly, I'll take with me the newfound friends the Award has prompted me to meet. I hope that my experience with the Award and my new skills will help me meet many more friends in the years to come.