One of  Zac's big passions is Pedal Prix, a sport most people have never heard of let alone seen. Imagine a someone in bullet shaped fiberglass case held 20 cm off the ground by a tricycle that can go past 50km hour racing against other similar contraption. This of that and you have Pedal Prix, a sport which Zac loves and is doing for his Physical Recreation.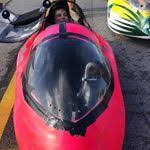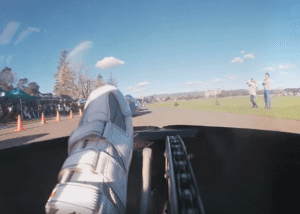 How did you find out about the 
Award?
I found out about it through school. 
Why did you decide to do the Award? 
I was able to do the Award because I was selected to be one of the first 5 people to do the Award at my school. Doing so I even got to meet Prince Edward!
How did you get to meet His Royal Highness?
I met The Prince on the 17th of April 2018 Salisbury Enterprise Centre, I remember the day well it was also my sisters birthday. I was a stuttering mess that day, but channel 10 put it on the news and my mum saw it. Even though I was so nervous that day, it was one of the best days of my life.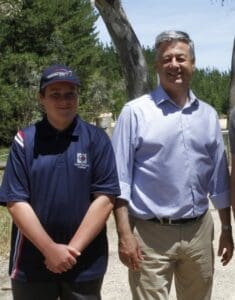 What activities are you doing for your Award?
The activities I have been doing are: the schools pedal prix team, going on awesome school camps to really cool places, racing at Murray Bridge and helping my school community by helping one of the school teachers with yard duty on Wednesday at lunchtime.
Could you explain what Pedal Prix is?
Pedal Prix racing is when you race enclosed trikes around circuits for a certain amount of laps or time its a great way to challenge yourself physically and mentally.
What sort of challenges are you facing in your day-to-day life, as a result of COVID-19? How has this impacted you?
I have been faced with some difficult challenges like how I am going to do my Voluntary Service with social distancing but now that things are getting back to normal I am able to do my normal Voluntary Service. 
Is the Award helping you deal with any of these challenges? If so how? 
The Award is helping me with me being more aware of the community and also helping me face challenges head on.
Have you had to adapt your Award activities as a result of COVID - 19? if so, how? 
I have been able to adapt my Award with there, unfortunately, being no club sport available. I have had to adapt by training from home with both basketball and pedal Prix. Luckily I had already been on the AJ and raced at Murray bridge (for Pedal Prix).
Is there anything else you would like to share about your time doing the Award?
The Award is really fun!
I'm very close to finishing my silver and its well worth the long hours it takes to complete.