From undertaking part of his Gold Award in South America, to attending the International Gold event in Korea in 2014 and now finishing up as a member on the International Council of The Duke of Edinburgh's Award Association, Matt Burfield can truly say The Award has taken him far and wide, presenting him to some unforgettable experiences.
Matt's journey began after taking on a degree in Applied Science at University whilst interning with uniDap Solutions, an organisation that build and maintain databases, one of which was the Australian Online Record Book. Upon completing his Masters in Information Technology at 23, Matt decided to do his Gold Duke of Edinburgh's International Award through the Open Award Centre. With limited time to complete all the sections before his 25th birthday he began to carefully plan everything he wanted to achieve and made a list of things that could help him learn and grow as a person. He was eager to challenge himself, get out of his comfort zone and accomplish something that he didn't think was possible. Having always been a shy person he aimed to use The Award to focus on areas that were lacking like leadership, public speaking, and being comfortable around new people. So he decided to travel by himself, to South America as part of his Gold Award.
A Truly Flexible Award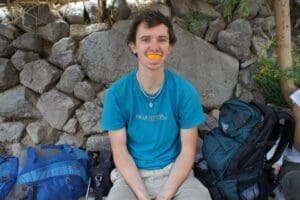 He asked himself "How can I do my Gold Award whilst travelling South America for nine months?"
He learnt Spanish for his Skills section using flash cards, pod casts, and skype, using his travels to South America as practice. For his Service, he used his software developer skills to design and maintain a webpage for a language school in Equador. For his Adventurous Journey he hiked Machu Picchu and for his Residential Project he spent a month with a local family. This was one of his most memorable experiences as he developed a deep connection with the Ecuadorian family, and their culture.
Matts nine months in South America was life changing, and forced him to overcome his fears and anxieties. He found himself meeting and interacting with new people every day and learning to rely on himself. He recalls,
"I think I experienced every single emotion possible while in South America, and gained so many memories and friendships that will stay with me for the rest of my life."
Representing Australia At The International Gold Event (IGE)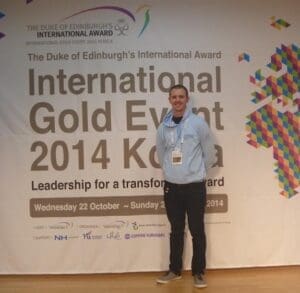 The IGE is a global leadership program for the immediate next generation of key decision makers and influencers within The Duke of Edinburgh's International Award worldwide. It brings together Gold Awardees from all over the world to develop leadership skills with opportunities to contribute to Award policies and practices locally, nationally and internationally. The IGE gives participants the chance to meet, exchange ideas and establish sustainable networks of emerging leaders.
Matt recalls, "Throughout my life I may have only had a small handful of truly unforgettable experiences and for myself and many others that attended the International Gold Event (IGE) 2014 in Korea; the IGE was definitely one of them."
More than 70 Gold Award holders from all corners of the world conjugated at the National Youth Centre of Korea for 10 days of intense workshops, events, field visits and team building activities culminating in a presentation to HRH The Earl of Wessex, Trustees and International Council members.
Election To The International Council
Throughout the IGE, there was an election process happening, to nominate and elect delegates for the International Council.
The International Council (IC) of The Duke of Edinburgh's International Award Association (IAA) supervises the operational functions of the International Award Foundation (IAF), act on behalf of the International Award Association (IAA) between Forum meetings, ensure that decisions made at the Forum are put into action and accept qualified National Award Operators (NAOs) into provisional membership of the IAA.
The IC consists of the Trustees and the Secretary General of the International Award Foundation plus 12 regional representatives (three per region to represent the interests of national operators and independent centres in their region) and eight Emerging Leader Representatives who are elected at the IGE. The Rt Hon The Lord Boateng PC DL, UK is Chair of the IC.
The IC meet once a year, either at the Forum, International Gold Event (IGE) or at a specific IC meeting, depending where we are in the three year cycle of events.
During his 3 years on the International Council, Matt was at the center of the strategic decision making and planning for The Award on a global scale. This involved leading workshops at International Events such as the Forum, Asia Pacific regional meetings and the IGE, and providing his unique perspectives as a Gold Award Holder in IC meetings.
One workshop he gave to National Directors at the Forum in Canada, was on how different countries delivering The Award can adapt and mould The Award program to existing frameworks and programs to expand the reach of The Award globally.
Matt also attended all of the Asia Pacific regional meetings with CEO's and national directors of The Award in many countries within this Region. Many opportunities were presented to Matt ranging from being MC a formal dinner in Hong Kong, to being a member of working groups and research groups on various Award projects and strategies.
While being an Emerging Leader allowed Matt to contribute to The Award internationally, he also had the chance to contribute to The Award in Australia. In 2016, Matt worked alongside the CEO of The Award in Australia, Peter Kaye, to review the current model for the alumni network of The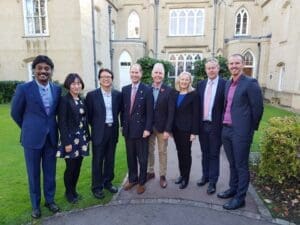 Award within Australia, researching potential solutions to increase awareness for The Award alumni within Australia.
The most recent IC meeting took place in Prague in 2017, as part of the International Gold Event. This IGE marked 3 years since the previous, where Matt was elected to the IC and it was time for him to step down as Emerging Leader for the next generation of Gold Award Holders to be elected. Although Matt stepped down from the council, he still had a key role at the IGE - mentoring and facilitating the participants.
Recognition For His Contribution To The Award
Matt was recently recognised for his service to the Award in Australia with distinction following his election by his peers as an Emerging Leader to represent the Asia Pacific region on the International Award's Foundation's International Council. During his term Matt showed leadership, proactive engagement and thoughtful consideration on all governance matters before the Council. Matt has role modelled many of the qualities that the Award seeks to enhance and recognise amongst young Australians.