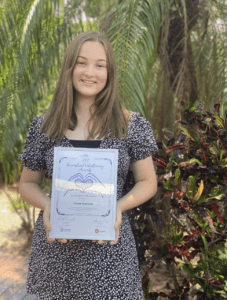 Last year we shared a story from Evelyn who was named Young Citizen of the Year in Moreton Bay QLD(read more here). Her dedication to helping her community and those around her while achieving her bronze Award is incredible and so we were overjoyed to hear that she is now: the youngest ever finalist for Youth Volunteer of the Year, Volunteering Queensland at 15 years old!
Quote from Evelyn:
"I was quite worried at the beginning of the pandemic as I could see the stress and worry it caused my parents and people around us. When schools closed and all of my activities got cancelled I found it really tough going. So to be able to change my Award sections really helped as my Silver Award became the one thing I could do each week to focus on to get me through. I'm looking forward to starting my Gold Award in August."
Evelyn started the Silver award in February 2020 after finishing the Bronze Award.
With the global pandemic and the ever changing restrictions all her award categories ended up being adapted.
Skills:
To start with Evelyn was doing weekly extra curricular with her school for choir and a Culinary Club run by a chef. When the schools closed we were able to locate a local person who taught crochet. So the skill section was amended to learn how to crochet blanket squares and make these into a blanket to donate to a charity.
Physical Recreation:
This section was the one that changed the most. To start with it was weekly drill and ceremonial for Air Force Cadets however that stopped in March and didn't resume until August. So the award was adapted to do hiking in national parks. Then the rules changed that you couldn't leave your local area so it was changed to walking around the local lake. Evelyn kept a timer and went from walking to running to keep trying to beat her time.
Voluntary Service:
Rize Up Australia is a DV support charity and they have the Northside items in a storage shed locally. Instead of helping with homes set ups Evelyn spent an hour every week helping to sort the donations that were already at the shed and do a stock take of all items. She also put together over 50 gift packs from donations to go into houses for victims.
Adventurous Journey:
The canoe expedition AJ's that were booked were stopped in March. So the Air Force Cadets worked with the Award and put together the first of its kind backyard bivouacs. There were over 60 cadets all over Australia that had to spend a whole 3 day weekend camped in their own yards but worked as a team via social media. Over 50 seperate field craft tasks had to be completed and a report had to be prepared at the end. It was a way of learning new skills and completing the AJ's during this unprecedented time.