Securing a first job out of school or university is a daunting task, especially when businesses are looking to recruit people with work experience.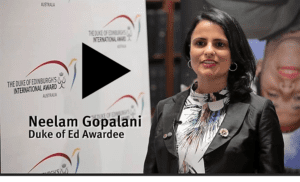 The experience of Neelam Gopalani, now a Marketing Manager for a global engineering and design consultancy firm, was that doing the Duke of Edinburgh's International Award helped her secure her first job with a major accounting firm.
After completing her Bronze, Silver and Gold Awards at high school, she started work as a cadet accountant with PwC Australia, one of three roles she was offered after a job search that involved rigorous interview processes.
Having stories and experiences to share with potential employers helped in interviews
Having done the Award allowed Neelam to share stories with potential employers of real life experiences that had developed her endurance and determination, communication skills, leadership ability and team-working capability. "Being able to share those stories with employers gave them a better understanding of who I was and what I was capable of outside of my academic results," said Neelam.
"I did community service, I learnt new skills, I connected with new people and learnt how to work in teams. And so when it came to interviewing for a job, I believe those skills actually gave me an edge... in terms of getting called for an interview and then in an interview being able to share stories of the things that I had learnt."
"The activities I undertook as part of my award helped build my problem-solving and leadership abilities, encouraged me to give back to society, and work in diverse teams," she said. "I also developed a greater love of the Australian landscape through the field trips I undertook. I believe that the confidence I gained and experiences that I had gave me an edge in entering the workforce and landing my first job."
Well rounded candidates offer more than just academic results
Neelam believes that students who have something to offer that is broader than academic or theoretical knowledge is a benefit to any employer. The Duke of Edinburgh's International Award and other programs that encourage community service and skill development outside of the classroom are things that all employers should recognise and encourage.
"For me the Duke of Ed was a really structured program that enabled me to create my own journey and to develop skills outside the classroom that I've now taken into the workforce and into my life more broadly."
"I think all employers should be asking young people if they have done their Award or equivalent service because it really communicates that they've taken the time to challenge themselves, to learn new skills and to engage with their community and I think that would be a positive thing for any employer and for society as a whole" said Neelam.