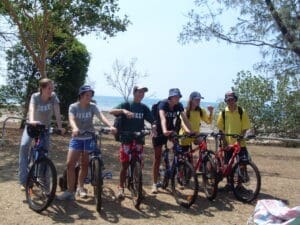 Seven spirited students from Katherine High School, a suburban school located in the bushland, ventured to Darwin to participate in the first 'Wilderness to Wharf' initiative for The Duke of Edinburgh's Award. As part of this initiative students engaged in an Amazing Race which saw them exploring Darwin and its local landmarks. The adventure involved much trekking, biking and public transport as the team followed clues and directions to get to their destination at Darwin's Harbour Wharf.
The unique element is the fact that this team tackled the challenges which a city can create. Traditionally the Award encourages youth to experience the environment of the bush and to learn skills needed when traversing the countryside. This "Wilderness to Wharf' initiative has been devised to test youth's ability to adapt to a city environment, differing greatly from their day to day activities," said Dukes Award Executive Officer, Ms Jane Brennan. Wilderness to Wharf brings students from remote locations across the Northern Territory into Darwin to conduct city craft training, with a focus on improving personal presentation and communication skills that will assist students with future employment.
Rare Opportunities
Alongside the city exploration, the students were invited to a jet boat ride on the 'Shark Attack' which proved a rare opportunity for many as most only ever see the ocean once or twice a year. They also enjoyed a lavish lunch with the Administrator of the North Territory, Mr Tom Pauling at the Government House. A scenic tour of the establishment was also given and soon after the group appeared as guests on the radio station Hot 100 where they discussed their project and the benefits gained from it.
The whole journey was a successful and excellent experience for all and as a result The Duke of Edinburgh's International Award aims for the program to extend to many more remote locations throughout the Territory.
To learn more about the Wilderness to Wharf or to support the initiative please contact the NT Award Office at (08) 8947 7071