Jonathan's Duke of Ed Journey
"I was first introduced to The Duke of Ed at school. It seemed like a good opportunity for someone my age and having moved from India to explore Australia through the Adventurous Journey Section. Most of my friends also decided to do it too, which made it even more exciting. It was an opportunity I could not miss.
For me, another attraction to the Award, was being able to use it to overcome my own challenges and get out of my comfort zone. It was nothing like I had ever done before; I faced many challenges along the way, like learning to cook in the wilderness, setting up a tent and managing myself without anyone's help. I made a lot of mistakes throughout the camps too but I learnt from every single one of them and that's the point, to put yourself out there regardless of your knowledge and to just have fun and learn whilst doing it.
After moving from India with the help of the Award, I got a better insight into other people's cultures, beliefs and values in Australia. I learned to better my social skills and better connect with my peers.
The experience I have had is surely one that I won't be forgetting anytime soon. I have learnt new things, made new friendships, grew as a person and had some of the best experiences of my life. The most exciting parts for me were definitely the camps.
The first camp we went on was the surf camp at Wilsons Prom. This place was absolutely beautiful. We set up our tents and went straight to surfing. There, we were taught how to properly manage our surfboards and keep ourselves stable in the water. I can't thank the teachers enough for their tremendous support and care for us. We surfed, played at the beach and overall just had a blast.
Next we went rock climbing at Grampians where we learnt to overcome our fear for heights, not only was I shocked to see some people push themselves way past their limits, but also to see myself doing the same. I felt very blessed to have learnt that skill. The hiking camp was one of, if not, the most challenging thing I've ever done. Not only did we have to walk for miles and miles but had to carry all of our stuff with us.
This taught me two things,
1. I am capable of doing more than I think 2. Without my friends and the teachers, none of this would have been as enjoyable as it was.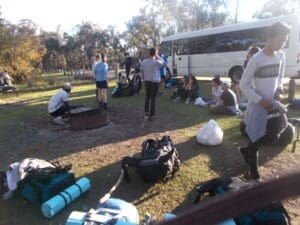 Walking over 100 kilometers was incredibly tough but with the company of my friends and my willpower, I kept going. We eventually made it to our destination and I felt so good about myself. I had the feeling you get after pushing yourself and believing in yourself to complete the mission which felt incredible and encouraged me to push myself more often in other areas in my life. I learnt that a good way to keep going when it gets challenging is to imagine yourself reaching your goal and feeling good about yourself when you have.
The Award has definitely taught me to be more disciplined in my life as to finish my tasks and keep up to date. I have also learnt to not be afraid of taking risks because even if you fail you will have learnt a great deal.
I would recommend everyone to try it regardless of your age, beliefs or limitations. You will love it and learn a lot about yourself; I have no regrets and believe it will be the same case for most people. It is a great and easy way to change your life!"