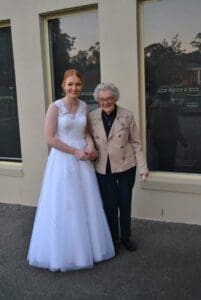 On Friday the 13th nearly 400 young Australian's received their Gold Award at the National Gold Award Ceremony at Town Hall in Sydney. The ceremony was part of a larger series of events attended by His Royal Highness The Prince Edward, Earl of Wessex KG GCVO to celebrate the 60th Anniversary of the Award in Australia. As the biggest cohort to receive the Award outside the UK, The Earl and a horde of Australian stars - including Dawn Fraser AC, Layne Beachley AO, Kirk Pengilly and Jack Thompson AM - were on hand to present awards to the recipients. After the ceremony we caught up with some of the attendees to hear more about their Award Journey and their experience at the event.
One of the Award Holders we spoke to was Shelby Steel from Maryborough Education Centre in Victoria.
For Shelby's service activity she volunteered at an aged care facility where she helped out in the care of the elderly as well as befriending them and keeping them company. During time volunteering Shelby got to know the residents really well, she even stopped in to show them her Debutant outfit before heading onto the event. Of her time here her assessor said "Shelby displayed ongoing enthusiasm and initiate in her actions, she respected our residents and engaged with them in a caring and responsive manner".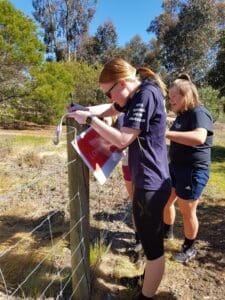 For her Residential Project Shelby assisted as a youth camp leader in the Murray River in Victoria. Her role as a youth camp leader was to assist staff in leading a group of year 10 students canoeing down along the Murray River for 5 days. During this time she strengthened her leadership, communication and team work skills, with her assessor saying
"Shelby displayed exceptional leadership qualities whilst assisting staff. Her confidence and leadership were continually enhanced throughout the 5-day journey and she was a great asset to the staff".
For her adventurous Journey Shelby completed a 12 km hike in the Grampians with an abseiling and rock-climbing component. During this time Shelby also strengthened and displayed remarkable leadership skills. For example her Assessor said "Throughout this journey Shelby developed exceptional leadership capabilities often encouraging others and leading the navigational aspects of the 13km hike and rock climbing / abseiling activities".
At the Gold Award Ceremony Julia was presented her Award by Jacinta Tynan, a notable Australian news presenter and journalist at Sky News, which was bestowed to her by The Earl. The Earl also greeted the Award Holders, including Shelby and posed for some photography to mark the moment.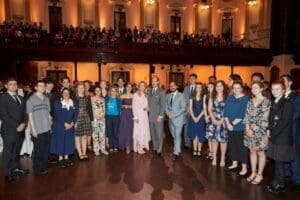 Interview with Shelby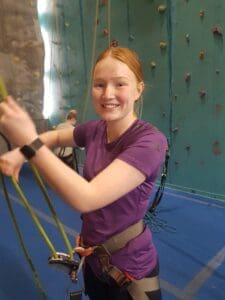 What was your favorite memory or part of your Award Journey?
Being pushed past my comfort zone and realizing I could do things I didn't think I could.
Has the Award changed or shaped your life in any way?
I have become a lot more resilient and become more confident in my abilities and it has allowed me to be more comfortable being uncomfortable.
Do you expect the Award will impact your life in the future, and if so how?
I think it'll open a lot more job opportunities for me and has given me teamwork skills and general life skills you don't learn at school.
What was your favorite part about the National Gold Award Ceremony on Friday?
Meeting likeminded people and it was nice to be recognized for all the hard work we did.