Aidan's Duke of Ed Story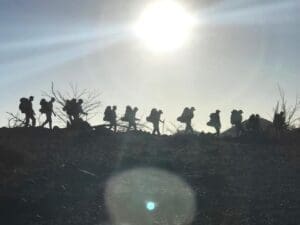 How did you get involved with The Duke of Ed Award?
In term 4 2018 I moved to a new school which offered a lot of extracurricular activities, one of the teachers thought I should sign up for the Duke of Edinburgh's International Award as the activities I was doing could go towards earning this Internationally recognised Award which could help me in the future.
What attracted you to doing the Award?
I thought I could benefit from doing the Award, after my teacher explained to me what it was and that a lot of the activities I was already doing could count towards the Award. I was already a member of the Australian Army Cadets and two of my former Army Cadet acquaintances had been awarded their Gold Awards and gave a presentation about the benefits of being involved. With this information behind me I could see all the benefits and thought I was up for the challenge.
What did your Award involve?
Bronze Award
My skill was learning the Russian language. I taught myself Russian using the app Duolingo, I'm no expert but I could semi-confidently have a short simple conversation in Russian.
My physical recreation activity was to learn to play ice hockey. I had never played before but was given the opportunity through school. I had only ice skated a handful of times, but after 6 short weeks I was participating in my first ice hockey tournament, which made me feel proud of myself. I have really enjoyed the challenge of learning ice hockey and have learned many new skills and enjoy the teamwork.
My Adventurous Journey was my participant walk with Operation Flinders. This involved walking 100kms over 7 days through the far north Flinders Ranges in South Australia. We carry our own packs containing sleeping/ camping equipment, personal items, food and water. I loved all the activities including the cross country hikes, abseiling, team building activities, bush survival skills, navigation and first aid skills. We learned about the history of the Flinders Ranges and gained and understanding of Aboriginal culture. The highlight for me was being out field for a week, even though the temperature dropped to zero overnight.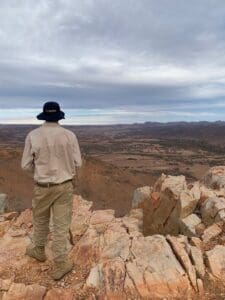 My service was my Peer Group Mentor volunteer work with Operations Flinders. Once I had completed my participant walk with Operation Flinders, I was invited back to take part in their Peer Group Mentor program. As a part of this program I volunteer my time to participate in field exercises as a Peer Group Mentor. In this role I help to boost team morale, encourage communication between the participants and the Team Leaders, and participate in all the same activities as the participants. By having "Been there, done that" I have some idea of how the participants might be feeling and am able to inspire them on their own personal journey of growth and discovery. I have also done volunteer work with Meals on Wheels, delivering meals to the elderly, which I find rewarding as they always enjoy seeing a younger person helping out and love to have a chat.
Silver Award
Now I have completed my Bronze award I am working towards earning my Silver Award.
My skill is acoustic guitar, I have been recreationally self-learning guitar since November 2018 after an impromptu epiphany of "I'm going to learn to play the guitar" I think putting it towards my silver Award will further my skills and inspire me to learn how to play those pesky barre chords!
For my physical recreation activity I decided to continue with ice hockey as there is so much to learn and I would like to improve my skills in the game to be at the same high level as the best players in our team.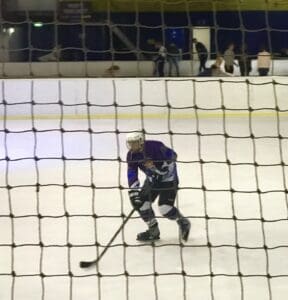 For my service, I am continuing with my volunteer Peer Group Mentoring with Operation Flinders and have added my Army Cadets. I have loved the Army Cadets ever since I signed up, I have learned so much about military history and have made many lifelong friends.
For Adventurous Journey, myself and 7 other students from my school are undertaking the Kokoda track with Duke of Ed generously donating us the money to make it possible. I am incredibly thankful for the Duke of Ed and my teacher Duncan for giving me the opportunity to do so. I have read quite a lot about the track and cannot wait to hear about the history from the place where it happened. With Army Cadets, I recently visited the Australian War Memorial and I looked at everything they had about Kokoda.
I feel privileged to have been chosen to go to Kokoda and its an honour to be doing it as part of the Duke of Ed Award.
What are some highlights of your time achieving the Award?
I've made some great friends because of the Award. The bond our Kokoda team has is like a family, and I think this will only get stronger while we are completing the track. The best part, so far, is the opportunity to do the Kokoda track at 15 years old! It gives me joy to see that out of school activities are getting recognised and the support from the teachers and support staff is incredible. Through the Award I have also had the opportunity to meet some amazing mentors and outstanding members of the community, including the 2019 Australian of the Year, Dr Richard Harris SC OAM.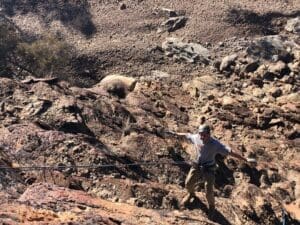 How have your experiences doing the Award impacted you?
The Award has given me the opportunity to experience new activities which has given me an indication of what I am good at and what I enjoy doing. Through training for Kokoda I now have a dream to climb the seven summits one day.
Do you want to add anything else?
I want people to be encouraged to do The Award. To say "YES" to every opportunity that gets thrown their way and to have fun while doing it. It's going to be tough, its going to be challenging, it's going to be hard. But that is why I do it. I don't do things because they are easy, I do them because they challenge me, allow me to grow and most of all: enjoy it!
When I found out I had completed my Bronze Award I felt proud. Now I am determined to work towards my Silver Award, as I really enjoy having something to aim for.
Most of my friends know that I am heading to PNG to complete the Kokoda track as part of the Duke of Ed, and some of them are now looking into doing to Award themselves, because of the stories I have told them. I have been encouraged to talk about my experiences by my mates as they think I should share the good stuff I'm doing.