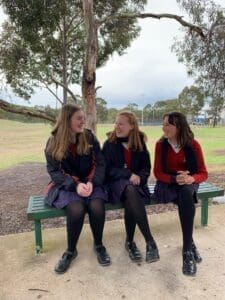 Students Chloe, Amelia and Angel
The Duke of Ed Victoria Visits Reservoir High School
A few months ago, we (The Duke of Ed team in Victoria) visited Reservoir High School to hear more about the success of running the Award in conjunction with Advance, a school-based program delivered through Victorian Government secondary schools. Through Advance, the Victorian Government provides Victorian Government secondary schools with almost $10,000 in annual funding to provide engagement opportunities for young people to actively participate in their community. As well as working with community organisations, students complete learning modules in project management, communication and community; and develop leadership, teamwork and problem-solving skills along the way. A number of Advance schools choose to implement The Award as a framework for providing students with community engagement opportunities. The framework of the Award also provides opportunities to strengthen the skills that students learn through Advance's learning modules.
Reservoir High School is a middle-sized Year 7-12 school located in Melbourne's northern suburbs. The school provides excellent educational outcomes for all students in a positive, caring and supportive learning community where diversity is celebrated and valued, lifelong learning is embraced, and all students have the opportunity to develop as leaders in their community. The school's enrolment is currently around 600. It is anticipated that the school will grow to approximately 750 in the near future. Trends in the student, parents and staff surveys have been increasingly positive and they have outstanding results. Diversity also adds to the richness and quality of the students' educational experience with a significant EAL student cohort and over 60 cultural groups represented in the school.
Reservoir High School runs Advance and Duke of Ed together as an elective class for Yr 9 students. The class has 25 students and has been led by two teachers – Tony Marcus and Ros Pizzey, since the subject was put into the curriculum. Tony is this year celebrating his 20th year as an Award Leader and Ros has been engaged with the Award for the last 18 years.
The Advance and Duke of Ed class is very self-led at Reservoir, each student completes the Voluntary Service, Skills and Physical Recreation activity independently. This means they find, choose and complete each activity on their own, or in groups they've formed independently.
For example five of the students, Mia aged 14, Angela aged 14, Jade aged 15, Chloe aged 15 and Amelia aged 15 are all learning an instrument for their skill. As part of that activity they are composing a music video together, combining two songs together and also involving other students from other classes in the activity, turning it into its own project.
"I love the fact that so many of the students complete the three sections (Skill, Volunteering and Physical Rec.)  with so little assistance from me. So many activities at school are teacher directed, but the Award allows students to demonstrate initiative and commitment over an extended period and this gives the students and myself a lot of satisfaction when they ultimately receive their qualification" Says Tony.
For their Skills activity many of the other students are studying their first or second language, whether that be English, or another language, with the goal of improving their language skills, rather than learning a new language. For Melina aged 14, that means continuing to keep up her Persian so she can communicate with her Grandmother back in Iran, for Tam aged 14 that means writing complex essays in Vietnamese, his first language. Melina has also found that doing the Award has improved her English because it's made her more confident to get involved in other activities at school, such as debating which has challenged her to improve these skills.
Gaining confidence as an outcome of the Award is something that both Award Leaders have consistently seen over their years as Award Leaders.
"The Award gives young people the chance to undertake a variety of new experiences, to develop new skills and gain greater confidence in their abilities which will enhance their future lives," says Ros.
To which Tony added:
 "The Award gives young people the chance to challenge themselves and demonstrate initiative and commitment to complete a really important qualification which hopefully will have a lifelong benefit to each student's life".
For their Voluntary Service, the students are doing a variety of different activities. For example, Hugo aged 15 is volunteering at Arts Project which is an organisation that supports artists with an intellectual disability, to promote their work and advocate their inclusion in contemporary art practice. His responsibilities are to talk to artists, clean up the paintbrushes and paint and help sort and store the artworks before sale. When asked about why he chose to take the Advance class Hugo said:
"I decided to do it to gain new experiences, I haven't done a lot volunteering before and saw the program as having an opportunity or reason to finally commit to doing it".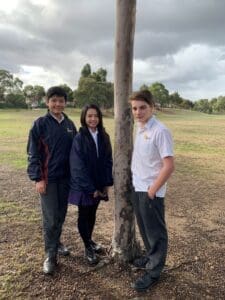 Students Tam, Nhu and Hugo
For her Voluntary Service Activity, Mia, helps at a daycare centre that her Aunt works at, which she enjoys the most out of all her activities because "I get to see what my Aunt does for a living, and learn something about what working in that kind of industry might be like".
Volunteering at the Library is another choice for two other students Nhu and Tam both aged 14. For Tam the Voluntary Service is also his favorite activity because he gets to do things he doesn't normally do at home or at school such as meeting and talking to new people.
Another important component of both Duke of Ed and Advance is the skills and learning it develops outside of the classroom.
"The interaction with students in an out of school environment during the Adventurous Journeys translates so well into working with students back at school. I often see different skills demonstrated that are very difficult to see in a classroom." says Tony
To which Ros added:
"The Duke of Ed provides students with a challenge that extends beyond their normal academic studies. I love watching students being pushed outside their comfort zone and being able to rise to the numerous challenges we give them whether they be physical, teamwork challenges or having to work with and communicate with people they would normally have little or no contact with" says Ros.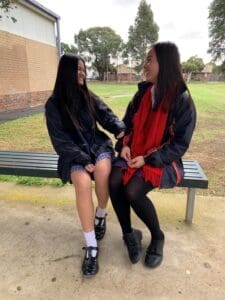 Students Jasmine and Cindy
It seems that the students also like a hands on, practical and skills based approach to learning too.
"I choose to do this class because I wanted to do more extracurricular activities, more hands on practical learning. Advance and Duke of Ed is not about studying or theory, it's practical learning" said student Tam
Another student, Melina said "I choose to do Duke of Ed because it sounded fun and I thought that it would help build the kind of leadership skills that would help me in the future".
Student Melina
Both Tony and Ros have seen over 450 students come through the program at Reservoir High School, a huge achievement for both them and the students who have completed their Awards there. They have been running Advance and the Award together for a number of years and have demonstrated just how well the programs map together to achieve amazing outcomes for a diverse range of young people.
We look forward to hearing more amazing stories from the participants at Reservoir, keep up the great work guys!