I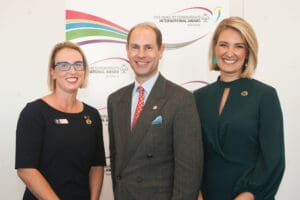 n April this year, His Royal Highness The Prince Edward, Earl of Wessex KG GCVO visited Australia as part of his Royal tour to promote The Duke of Edinburgh's International Award and help raise funds to support more young people to get involved in the Award. During his visit, HRH, The Earl of Wessex attended The Duke of Ed Employer Launch in Brisbane – An initiative to inspire employers to recognise the benefits of the Award in allowing young people to develop crucial life skills that will assist them in future work life.
Pippa Sheehan, a Gold Awardee and journalist from Channel Ten Eyewitness News, and Kate Atkin, a Gold Awardee, teacher at St. Aidan's School and Award Leader, were among the guests at the launch. Together, Pippa and Kate took the stage to share their inspirational stories of how the Award has influenced their lives, careers and has lead each of them to encourage more young people to take part in the Award.
Pippa and Kate's Speech and Interview
[Pippa]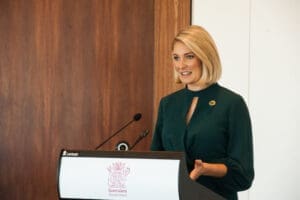 "Good afternoon everybody. Your Royal Highness, thank you so much for being here. Can I also acknowledge the number of people that the Assistant Minister also welcomed here. Ladies and gentleman thank you for inviting us both to speak; this is something we are both passionate about.
This Award has genuinely helped shape my career and where I am in my life right now. For the Skill component of my Award, I actually worked as an intern for Channel Seven a couple of days a week. When beginning my university degree that ultimately has been an absolute passion for me, having all that experience meant that I was streets ahead of my cohort when I actually came to get a job and I ended up having a job before I even graduated, which was pretty cool. But, it's not just the Gold Award I had pride in. I have constantly added every single Award (Bronze and Silver) to my resume whenever I apply for a job, knowing that there are so many people who recognise it for what it is and respect it for what it is; a dedication of time, effort and mind.
In the world of news, it can be pretty frantic. You need to be adaptable, quick, easy going, organised and very sharp. You need to be communicative, you need to know what happened, who did it, why they did it and how they did it. But, you also need to know where you're going, what you're doing, who you're seeing, why you're doing it and how you need to go about it, mostly within about 5 minutes of finding out what's happened. But then you also need to know that you need to drop everything at the drop of a hat sometimes. Those same levels of flexibility and organisation are required through … The Duke of Edinburgh's multiple Awards. These are things that I apply to my everyday life and have been recognised by my employers in the past as very very important. I know it is highly valuable for me as an individual for those future employers, such as yourselves [gestures to audience], who are going to be looking for some fabulous candidates.
Kate and I actually share some history. We both finished the Bronze, Silver and Gold Duke of Edinburgh's Awards and we are both former St. Aidan's students. However, Kate has now taken up a position with St. Aidans and is an Award Leader."
(Kate comes to the stage)
[Pippa]
"So Kate, you have held a number of positions, how do you see that the program actually builds employability for people?"
[Kate]
"So, for me I credit my involvement with The Duke of Ed award on many key moments in my life, whether it is being elected as school captain  in my senior year, to being successful as an undergraduate in an investment bank in my early days as a professional. To me, the skills that the Award has given me really did set that foundation for my professional career. It was something that then when it was my turn to start the recruitment process, I then went, and if I saw particularly at a silver or gold level, that a candidate had achieved those Awards, I knew that I was getting someone who was reliable, they were adaptable, they were resilient, they were team players. All the things that I wanted in my team. I knew that they would make that transition easily from the world of university into the workforce as well."
[Pippa]
"Absolutely, having those key skills is very important. Now, Kate is obviously able to give back to the community as an Award Leader. How do you know this kind of a program is going to give back and help those future Awardees know that there are going to be employers out there that will recognise the Award so beautifully?"
[Kate]
"For me, this is why I became a teacher. It is obviously a big shift between the banking world and the world of education, but it's for reasons, such as The Duke of Ed Award that it is so powerful to me to be able to give back to students like Pippa and to help support them through their Duke of Ed journey and it just means the world to me to be able to give them those opportunities. I think we hear a lot about 21st century skills, we hear about these soft skills and there is only so much that we can actually achieve in a classroom itself and it's what can we also do as an extra curricular activity to support students so that they are set up for the future world of work? To me, that's my role as a teacher and it is fundamental to our student's success in the future world of work and the Duke of Ed Award is multigenerational. It is something that is more valuable to our future students and our future workforce than it ever has been. So, I thank you all [gestures to guests] for taking this opportunity and absolutely you won't regret it at all."
[Pippa]
"Absolutely, it's excellent. Thank you so much."
[End]