A truly life changing experience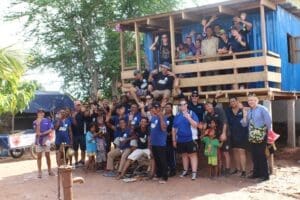 PCYC's Sunshine Coast, Dalby, Mt Isa and Nerang  Branch Managers Sergeants Marty Hunt,  Mick Hughes, Gina Scott and Scott Muldoon and 14 young people recently spent two weeks in Siem Reap, Cambodia as part of the Duke of Edinburgh 's International Award.
The PCYC groups decided to collaborate on this project and fundraised for over 12 months to ensure they had the funds necessary to build four houses for families in the region.
The Duke of Ed experience gave the young participants the chance to embrace and immerse themselves in the local culture and also gave them the opportunity to spend three days at the local orphanage, helping kids with their school activities and English lessons, singing songs and playing games.
"It was an awesome experience building a house for someone who didn't have one and just seeing the smiles on their faces, they were so grateful and happy," –Chandler
Sergeant Hunt commented on the experience as a great eye-opening opportunity offered through The Duke of Ed program, which has continuously impacted positively upon young people, where in this case "They learnt life lessons that they will carry with them for the rest of their lives and be able to pass on to others about how lucky we are in this country and how simple things can mean everything to other people around the world."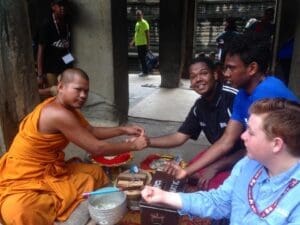 Two of the young people are also members of the Deadly Murris Youth Leaders, a Torres Strait Islander group of young people who provide mentorship for youth in the community on the Sunshine Coast. The Duke of Ed program has provided them a wonderful opportunity to inspire others to develop their skills and become leaders within their community. For them, it was a great job to be able to help and make a real difference that will help improve the lives of others.
"They have really become an inspiration to other young people locally, particularly their peers in the Aboriginal and Torres Strait Islander community".
The continuous effort of the group was rewarded through the happy smiles and gratitude they had brought to those in need, which is sure to be a life experience they won't soon forget!
"I just want to come back here again and do more," –Byron