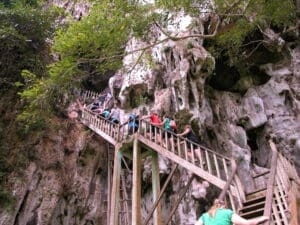 Twelve adventure seeking gold participants from William Carey Christian School have completed their Journey component by doing a 17 day tour through Laos. The trip to this incredibly beautiful yet sadly underdeveloped country involved trekking by bicycle, bus and boat from the capital of Vientiane to the north of Huay Xai.
Cycling through the villages the adventurers met many of the local youth who seemed so energetic shouting out "Saba Dee". Meaning hello the Awardees responded likewise. They were shocked to hear however that many of these Laos natives had never seen Westerners, let alone ones wearing helmets, shoes and such colourful clothing. The group then made their way to the Plain of Jars, an extraordinary site strewn with imposing stone urns surrounded by numerous land mines. The jars are thought to weigh up to 6 tonnes and be up to 2000 years old. Funnily enough no one quite knows their purpose. This scene truly seemed to embody the country; the beautiful amongst the tragic history of the country.
At Luang Prabang, a magnificent UNESCO World Heritage city, the team rose at dawn to see a long procession of monks dressed in orange robes carrying alms bowls. They walked barefoot through the streets to accept food from the locals. This would be the only food they ate all day.
The Experience Deeply Affected Us
At Nong Kiau the students met the school which they had raised $2,500 to build classrooms for. Sport equipment and a building to hold over 100 students were also donated. Each child at this school has to share their small desk with 4 others and often many didn't have a single book to write in.
"Seeing firsthand the poor facilities and witnessing the struggle the kids undergo to attend school deeply affected us… We all realised how privileged we are here in Australia" wrote Skye Russell, the WCCS Duke of Ed Award Leader.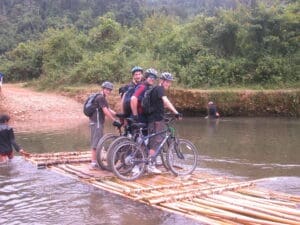 The adventure was also shared with the villagers. Soccer was played with the locals and the group competed in a thrilling dragon boat race. They were beaten quite embarrassingly though with their boat sinking right at the finish line. "The optimism of the local children, their enjoyment of new-found friendships, and the opportunity to cross cultural barriers left a lasting impression" wrote Russel. The evening was spent at a Basi ceremony where the elders welcomed the adventurer's spirits into the village through rituals, wishing each good health and fortune.
From exploring the vast countryside to assisting a poverty stricken village, the experiences gained by all will be cherished forever.