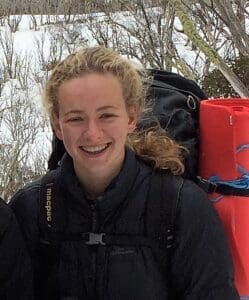 Isabella started doing her Duke of Edinburgh's International Award whilst at boarding school in Sydney, wanting to get the most out of her time at school and experience things that she may never get the opportunity to do again. She is currently completing her Gold Award, which includes volunteering at the Illawarra Riding for Disabled, improving her driving skills, regular horse riding and Adventurous Journeys to the Kosciuszko region. For the Service section of her Bronze Award, Isabella starting visiting the local elderly care home and it was here she encountered a life changing experience that she shares with us below.
A life changing experience  
"Each Wednesday I would catch the bus to St.Lukes Aged Care Home and spend time chatting with an elderly resident there called Dr Retter.  He was born in Czechoslovakia in 1915, and experienced the world at the time of WW2. His attempts to become a qualified doctor were cut short when Hitler shut down his university; however, his passion for helping others led him to sign up as a Doctor in WW2. This led to many memories and experiences, which he was able to share with me including the places he'd been and things he'd witnessed. His life was fascinating and I felt so privileged to be able to hear his stories directly from him. At the time, I was in year 9 studying history and learning about the World Wars so it was unreal listening to the real life stories.  Studying the history gave me more knowledge to connect with some of the things he would tell me, and I was able to engage on a deeper level and ask questions, which uncovered many more stories he had forgotten about.
At first I was a little hesitant about this volunteering activity, and doubted my ability to sustain a competent conversation with an elderly person who I had never met, but I really misjudged the impact this experience would have on both Dr Retter and myself.
As a 99 year old man, Dr Retter's health was diminishing, he had lost his eye sight and ability to walk, yet as he would often tell me, his brain was nowhere near the age of his body, and he remembered things in such detail. At this stage in his life, living each day became less enjoyable and often at the beginning of our times together, I would feel pain knowing his lack of love for life. However, as the time we spent together went on, it was as I left in the afternoons that I felt the most reward, rather than a gloomy look I would receive as I entered, Dr Retter would be smiling and his spirits heightened as I would leave.
Without the opportunities, which the Award has provided me, I doubt I would have ever had the opportunity to experience so many life-changing experiences, but the highlight of my three Awards was definitely the time I spent with and the friendship I built with Dr Retter. Once I had completed my Bronze award I continued to visit Dr Retter, I didn't need to fill any more volunteer hours, I simply enjoyed his company and the way I felt when I left knowing I had made someone else's day a little brighter.
On the 17th of December in 2015 I was lucky enough to visit Dr Retter on his 100th birthday with my grandmother. On the 26th of October this year, the same day of my groups Gold Presentation dinner, Dr Retter passed away, just a few months before he would have turned 102. The message in the paper well described Dr Retter the selfless man I was so lucky to know, "No Funeral, No Fuss, No Flowers."