The International Gold Event (IGE) is a prestigious global leadership program for the next generation of influencers and key decision makers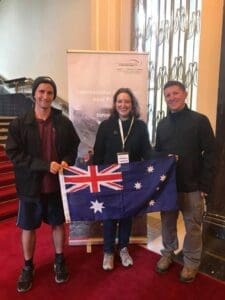 within The Duke of Edinburgh's International Award Worldwide. Gold Awardees from over 40 different countries have the opportunity to develop skills in leadership and character building with the chance to contribute and influence Award policies and practices. Together they engage in group activities, exchanging ideas and establishing a close network of emerging leaders whilst incorporating the theme of the event, with this year's being "Engaging a younger generation in our sustainable future." At the end of the week, eight stand out individuals (two from each region) are elected to work on the International Award Council for three years until another IGE event occurs.
The 2017 event took place in October in Prague, Czech Republic.  From all corners of the globe 90 participants travelled, including Australian delegates Ben Nedwich, Nathan Alterator and Hannah Jago. The Event was held at the International Prague Hotel, commencing with a welcome by Jiri Zrust, Chairman of the Executive Board in the Czech Republic.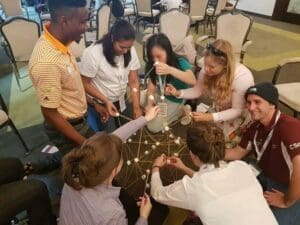 Skills Development and Workshops
Day one and two was filled with lectures, training and workshops based on team building and skills development. Each delegate was split into teams and given a group topic which would be their focus throughout the event. Ice breaker challenges and personality tests allowed the participants to get to know their team members and form close friendships with one another.
Delegate Nathan Alterator explained, "As well as experiencing a new culture, the opportunity to work alongside such a diverse range of people with a common goal is something that is unique."
Field Visits
Days three and four involved the participants setting out on field visits, beginning the day with presentations from three companies about their CSR programs. Ben Nedwich said,
"Fairly soon into the presentations our issue was quite evident. Companies want to get involved with the Award but they do not know how to."
With this in mind, Ben and his group members began to brainstorm solutions on how they could overcome this issue and get more companies on board with the Award.
Each group of Delegates then set off on visits to different destinations. Nathan Alterator travelled with his group towards the German boarder to a small city called Usti nad Labem, a town that sits on the margins of Czech society. Here the team of delegates lent a hand at the local community centre designed to increase opportunities and confidence for young men and women of the town.

The Shark Tank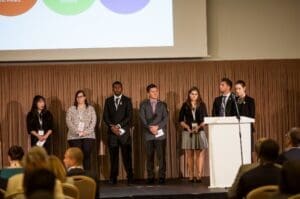 Day Five was an intensive day for the delegates, with each group preparing speeches and presentations to discuss their ideas for the Award based on their group topic, the theme of the event, and what they learnt from guest speakers and field visits throughout the week.
Day Six – The day each team had been building up to in presenting their ideas to a panel consisting of HRH Prince Edward Earl of Wessex and industry leaders from Czech Republic and Slovakia in a "Shark Tank" style setting. "The forum was nerve-racking but a valuable experience nonetheless." Says Nathan.

A Chance Of a lifetime
A closing ceremony concluded The International Gold event. Delegates prepared for the journey home, leaving with many new found friendships.
 "I came away with newfound connections and experiences. I have been empowered to go back into my community and continue to implement the Award and to make the experience for all even greater. It was incredible to see so many different cultures come together for the greater good of humanity, all with the want to empower every individual to live out their dreams. Although we are now divided by distance, we are even more united in hope for the future."  - Ben Nedwich