15-year-old, Lily Connor, first became interested in The Duke of Edinburgh's
International Award in 2017, when she decided to take on her Bronze Award.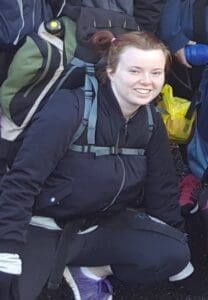 Her interest was sparked when she was made aware of the beneficial outcomes the Award program would have on her own self-development.
"I became interested in doing the Award as I wanted to support people and make myself aware of the community around me. I was so excited to be seen as a leader and to be able to help people."
Beginning her Bronze Award, Lily decided to try a number of new activities to fulfill each Award component, including singing lessons for her Skill, parkour for her Physical Recreation, and assisting in an after school care program one day a week as part of her Service section for the Award. Lily particularly liked learning to sing for her Skill.
"I enjoyed singing the most because it developed my voice and I made new friends in class." Lily said.
The Award Helping Lily To Get Her First Job
Not only did Lily find that the Award introduced her to fun, enjoyable new experiences, but she also found her involvement in the Award program helped her secure a job.
"I got my first Job because I had Duke of Ed Participant on my resume (and mentioned it in the interview) and they thought I would be a good reliable worker. I think if you participate in the Duke of Ed program, you have a higher likelihood of getting a job if there are multiple people applying. People assume you're responsible, helpful and will be a good worker, as well as knowing you will have leadership skills when you are in the program."
Lily Experiences The Positive Effects Of The Award
Overall, taking on the Award was a very worthwhile and positive experience for Lily.
"I would recommend it because I think it really helped me to have a more positive outlook on life. I'm so happy I got to have this experience with the people I did, and I wouldn't change anything. It is the best possible thing you can do for yourself."