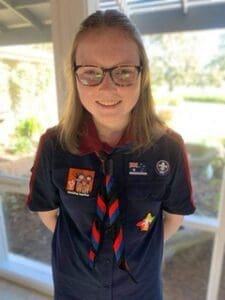 My name is Hannah Fairweather, I'm 16 years old and currently undertaking my Gold Award in lockdown in Victoria.
Activities that I am undertaking for each section is, Dance (Physical Rec), the Youth assistant leader program (Skills), and being a Joey Scout leader (Service).
I had to alter some of my activities to be able to complete my award from home, such as focusing on fitness rather than dance, as no classes are able to run, so instead of logging classes and training for competitions, I decided to improve my fitness and strength so that when things return to normal I will have made an improvement while in isolation.
As Scouting was switched to online sessions, I have had the opportunity to run activities for the Joey Scouts, but also to plan for camps when restrictions are lifted. The youth assistant leader program had a focus on helping younger participants achieve their award from home, which was a slightly different program to previous years but was more beneficial and relevant given the situation.
The hardest part about completing my Award from home is that I am unable to complete my Award Journey and Residential Project, however it has given me an awesome opportunity to plan a great journey for when restrictions are lifted. By planning for my Award Journeys during lockdown it has helped me to think about the future and get through lockdown as I have something to look forward to, but also to enjoy lockdown as a chance to focus on what you really want to achieve.
The best part about conducting my Award from is that I am motivated to complete my activities in order to finish my award, without the Award, I wouldn't make time to complete my activities which bring me so much happiness and an escape. I am still able to do what I love from home, and although remote learning isn't as fun and motivating as real school, the Award has really motivated me to get my schoolwork done in order to make time for personal growth and improvement created through the award.
The impact the Award has had on me is amazing, from the day I started my bronze I was determined to complete my gold, to prove to myself that I could do it, but also as a role model to prove to others that it is possible. As the Award is about being dedicated and improving I decided to complete the Award to push my self out of my comfort zone, to be a role model for younger students to see that anything you set your mind to you can achieve if you stay dedicated and work hard.