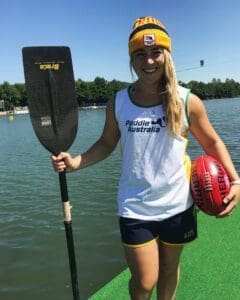 Reflecting on her Duke of Edinburgh's International Award experience, Gold Awardee and International Athlete,  Isabella Rositano, is certain that the Award has "shaped how she tackles every day." The activities she undertook through her Award allowed her to live a myriad of invaluable life experiences, which have since influenced both her career and study choices. At 22, and now a Medical student working in sports media on the side, Isabella has had a lot of success both during her Award and thereafter, including representing Australia in sport and competing internationally.
She first learned of the Award thanks to her mother, a teacher, who worked with the program in South Australia. Isabella was motivated by a desire to "positively contribute and be actively involved in the community".
For her Physical Recreation Award Section, Isabella competed in both rowing and cross-country, allowing her to improve her self-discipline and work ethic – both vital to advancing in her sports career. She started cross-country running and was able to coach herself to a state level, landing an invitation to compete in America in 2011. Later Isabella was drafted to canoeing and awarded an AIS Canoe Sprint scholarship in 2015, becoming reigning four-time National Canoe Sprint Champion (C2), landing on the podium over 31 times and going on to represent the Australian Canoe team internationally. She is now on track to be the first-ever Australian female canoe sprint competitor at the 2020 Tokyo Olympic Games where the event will debut for women.
"[The physical training in the Award] set me up for the challenges I face and have faced with canoeing.  I came up against a few roadblocks but over a 4-year career I remained ranked number 1 and number 2 nationally for the Olympic distances. For the majority of those 4 years I was without any coaching or sporting support- I often had to train and resource everything myself."
In her offseason from canoeing, Isabella was asked to play Australian Rules football as part of the European Crusaders at the 2017 AFL International Cup in Melbourne, Victoria. Holding a dual-citizenship, she became the first female Australian Rules footballer to represent Italy in this tournament.
"Walking onto the MCG with my European teammates was mind-blowing," Isabella reflects.
After inexplicably taking a step back from Canoeing in 2018, Isabella competed in bobsleigh, racing in a Monobob for Australia at Calgary's North American Cup where the event made its debut for women.
For her Skill Section, Isabella was involved in theatre, performing in improvisational comedy shows at the Adelaide Fringe Festival and creating short films. This lead her to London, where she met George Clooney and studied at Syliva Young Theatre school, also placing as a Finalist in the Tropfest Jr film Competition in Sydney. Ultimately these experiences influenced her to pursue presenting alongside current study.
As part of the Voluntary Service Section of her Award, Isabella engaged in a number of voluntary activities - working in aged care, childcare, a Soup kitchen and mentoring. She engages in voluntary work today for The Black Dog Institute - a translational research institute that aims to actively reduce suicide rates and empower everyone to live the most mentally healthy lives possible.
"I became aware of positive impact one person can make through my experiences in the program. Through my sport profile I was able to take up an ambassador role with the Black Dog Institute, which allows me to continue to raise awareness for mental health. Harassment is completely unacceptable and too common in Australia; in our healthcare system amongst healthcare workers it is a huge issue, even at University level. I particularly hope to demonstrate the power and importance of kindness and respect, two tools to a happier society we all have access to. I got to run on the Australian Ninja Warrior course this year which was one of the most enjoyable experiences of my life and best of all it gave me a greater platform to purvey my message for the Black Dog Institute even further."
In addition to her stand against harassment, Isabella has also been active in campaigning against gender inequality in sport and promoting women in sport.
 "For my Gold Residential Project I studied in Germany on full scholarship. Having the opportunity to live in a different environment really helped me in my sports career as we travel to train and compete in different countries. In 2016 I stayed in Poland at the Olympic Training centre and received coaching with the national team in return for teaching English (I also taught them some Australian rules football), I think having had some experience overseas early in my life helped me to never struggle with feeling 'at home' wherever I am and it means I have an upper hand as I don't suffer from homesickness to distract me when we compete away...(although sometimes I do miss my dog!)"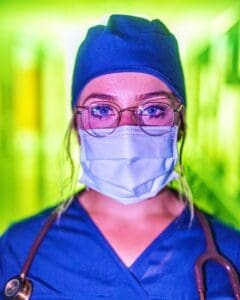 In 2018, Isabella was offered a place to study Medicine in Queensland, which has meant she had to limit some of her sporting engagements, but still trains and competes. Isabella wishes to combine her experiences and Medical studies to volunteer overseas in healthcare with an end goal to eventually work for Doctors without Borders, in sports medicine and perhaps presenting.
Isabella attributes her hardworking mindset to the Award-
"The biggest challenge for me in the Award was finding time to do everything and striking a balance, however through my experiences I now have the power to tackle each day and remain open to awesome opportunities when they present themselves.
I finished the Award program knowing I'd been able to contribute to my community, with a set of new and improved life skills, a bank of incredible memories and some excellent lifelong friends. I cannot endorse The Duke of Edinburgh's International Award program enough. It teaches valuable lessons early on that most learn later in life. Just do it!"