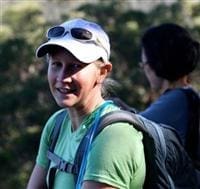 Carolyn Barry, Gold Awardee
Online Editor, Australian Geographic & AG Outdoor
I first learned about The Duke of Edinburgh's Award program when I first became a teacher. The school I taught at had a well-developed program and when I found out more about it, I was keen to get involved - especially with the expedition side of things, as the students at this school were encouraged to take part one of my favourite activities: bushwalking.
I was so inspired by the students and their achievements in the program, that I signed up to do the program myself, just completing the Gold by the time I was 25. I went on to become a Duke of Edinburgh's Award expedition instructor and enjoyed many trips with the students.  Because I was leading trips, I also had to brush up on my expedition skills, including navigation, which I hadn't really had to do before. I still remember the sense of achievement I had when I navigated an off-trail route using only a map and compass. These bush skills have also come in handy during more challenging trips I've done in the years since.
The Duke of Edinburgh's Award is such a valuable extra-curricular program for young people, encouraging them to challenge themselves further, develop independence, learn new skills and foster talents. It's something that all students should be part of.