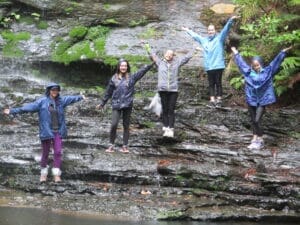 "I did my Bronze Duke of Ed when I was in Year 9 at school, but unfortunately our school outsourced the hikes, so only 3 of us did it, and there was no encouragement to continue on to Silver. I decided that when I became a teacher, that I would do everything in my power to make The Duke of Ed accessible to all students and make it more possible to achieve the higher Award Levels.
When I arrived at my current school, a colleague had been running The Duke of Ed for over 30 years and doing a fantastic job, but the level of school support offered meant that only the Bronze Level was really possible for her to manage alone. When I joined her, we could start to offer Silver and later Gold too. After she retired I took on the role and I LOVE it!! We run the Bronze and Silver hikes ourselves, to keep costs down, and used to run the Gold until numbers increased. We currently have 33 girls doing Bronze, 18 finishing Silver, 15 Year 11s doing Gold and 5 Year 12s who have just completed their Gold before they graduated.
My favourite thing about doing The Duke of Ed (apart from the days out hiking with students and staff of course) is watching the girls step outside their comfort zone and flourish in the many aspects of the program. They grow to love the great outdoors, and their favourite parts of the hikes are definitely the 'riskier' parts like rock hopping and 'bum sliding' that their parents might not allow them to do. Reading their log books is so encouraging as they really enjoy the challenge the hike offers, as well as the opportunity to plan and run aspects themselves and step up to be a leader. They enjoy becoming friends with people they might not normally talk to at school and they also see a different side to their teachers! They even like being away from technology (temporarily)!!
I also know how beneficial the other components are for each student. The Physical Recreation benefits them physically, mentally and socially. Knowing their skills are recognised and valued, and being more confident in each, is a joy to see. The community benefits from the services they offer, and we often receive such praise as to what great ambassadors our girls are. Many of these girls become our School Prefects and Captains and they champion the cause of Dukes to all.
For me personally the Award program has given me a good diversion from the hectic nature of classroom teaching. Often the hikes come at a perfect time, when I need to get away and destress - leaving the confines of the staffroom and classroom and breathe deeply and enjoy some sunshine. It has changed my relationship with most students for the better, as they see me as more 'real' (especially away from the smart clothes and make up). It has helped me get to know staff members better and build positive relationships, which can be hard when we feel we don't get to chat much. It has also set a good example to my children, that mum gets to go and camp with students during term time, as well as with my own in the holidays."