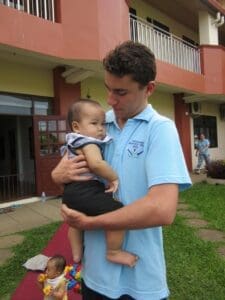 At the age of 16 Brough Whibley had just moved to boarding school and was finding it difficult to adapt to the change. It was his first time being away from home, and he was eager to establish a reliable support network to help him through these changes and encourage him to exert himself. It was his Housemaster's suggestion that the best way for him to respond positively to his change in lifestyle was to keep himself busy and get involved in as many new activities as possible, including taking part in The Duke of Edinburgh's International Award.
"As someone who had a lot of anxiety surrounding issues of identity and a lack of self-confidence, I wanted to become part of something that could allow me to focus more on myself and the Award really acted as a catalyst for me to start figuring out who I was, what my values were, and what I wanted to do with my life. Whether it was just that hour each week that I could spend doing something that took my mind off everything else that was happening in my life and focus on being present in the moment – was really important to me."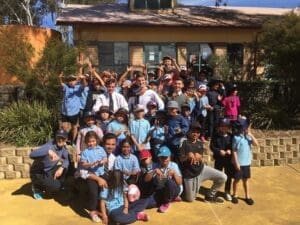 Brough was exposed to many new activities through his Award including volunteering at a local Aboriginal School with their Minimbah Literacy and Numeracy program, where he would spend time with the students helping them with their school work. He also began doing triathlons for his Physical Recreation Award Section.
For his Gold Residential Project, Brough served at both the McKean Leprosy Rehabilitation Centre and the Agape AIDS Orphanage in Northern Thailand to help build homes for those in the local community and provide them with emotional support. Brough felt that through his Residential experience, he "developed lifelong connections of companionship, support and care."
Brough gained a lot from each of the Award activities he engaged with, but it was his Skill component that had the greatest impact on him. For his Skill activity, with the support of the School he decided to develop a program focusing on men's health in the School's already existing "TAS Speakers Club"– a public speaking and debating team that helped him improve his public speaking and confidence skills, as well as serving the purpose of being a place where young men could talk about issues surrounding masculinity and mental health present in the world today.
"Throughout high school, for a long time, I was trying to figure out who I was and what it meant to be a man, as well as trying to focus on what career path I wanted to take. For me, The TAS Speakers Program allowed us to talk about the stigma surrounding Mental Health in young men and I wanted to get people to talk about mental health more openly. This prompted the alliance between the TAS Speakers program and the Batyr organisation which gave young men the opportunity to talk about a range of issues, not just mental health, but other world issues… It was a platform to talk about what really is the elephant in the room.
One of speakers we invited to come and speak to the TAS Speakers Program was Sam Bailey – a TAS Old Boy and recognisable face in the regional area. Sam suffered from a car accident after leaving school and was unfortunately left paralysed from the waist down. He admitted that it wasn't easy adapting to such a major change in his life and in his book, he talks a lot about not only his physical struggles, but the mental challenges he had to face throughout his farming career. I, along with many of the students, was really influenced by Sam's story and I think it showed the power of the mind and that if you put your mind to something, you can achieve it – which in itself is what the Award is all about."
Since completing all three levels of his Award, Brough discovered what he began in TAS speakers Club during his Award, fostered a passion of his to help others who had experienced similar mental health issues.
"One of my biggest passions today is being involved with some really great organisations helping young people in Australia deal with mental health. 'Livin' and SONA are two foundations which I am proud to be an active member of, sharing my story and doing my best to raise money and support these charities which encourage people who are doing it tough to get involved in things like The Duke of Ed. 
I think one of the main reasons why the Award program benefits young people with mental health issues is because it allows them to focus themselves on something else and provides a positive space to start healing and overcome whatever challenge they face.  There is the opportunity to meet other people who experience the same challenges and this really is an invaluable asset to have whilst completing the Award – The chance to share make lifelong friendships."
---
Brough is now a student at Bond University studying Architecture, something he admits he never thought he would be able to achieve before he took part in the Award and improved his self-confidence.
"For the past year, I was the treasurer of the Architecture Students Association (ASA) and a committee member of SONA (Student Organised Network of Architects) at which the prime focus for our committee has been developing a stronger response to mental health issues affecting young architects and architecture students. We have held a number of discussion sessions at the university and have been regularly putting on fundraiser BBQ's to help spread awareness and support some of the mental health organizations that exist on our Gold Coast Campus such as 'Mentally Healthy Bond' and 'Livin'.  More recently, we have appointed an exciting new role in the executive committee for 2019 titled 'Mental Health Coordinator' whose purpose will be to continue holding fundraising events and discussion nights as well as providing the correct pathways for people who might be doing it tough."
"One of the biggest challenges that I faced was definitely a lack of self-confidence, which made me anxious at times where I was out of my comfort zone. Looking back, it was these moments that defined my Duke of Ed experience because I was able to overcome these challenges through the support of my friends and Housemaster who pushed me to do the things I truly never thought I would see myself doing. I would definitely not have met all the incredible people I did if I didn't get involved with the Award. It has certainly given me the chance to speak with so many people from different backgrounds and circumstances, which in turn, has broadened my view of what it really means to be a young Australian. In terms of the experience, I think that the Award gives you that understanding of what your role is in society, whether it's to serve, give back, fight for someone who can't, or challenge yourself to do something you didn't think you could do. The Duke of Ed Award Scheme has really shaped the person I am today.
When I think of the moments that really mattered for me during the Award, it wasn't the ones that could be captured by a camera, or felt by crossing the finishing line, but all the moments in between - where for a split second, I realised that I was part of something bigger than just myself. It wasn't about where I got to in the end, it was about the journey and all the brief moments where I laughed, cried, yelled, smiled, and joked with people I never thought I would meet, stepped in places I never thought I would go, and helped people who I never knew were so less fortunate than myself."