Our Award Leaders are at the centre of the Award experience. Their efforts help us to support thousands of young Australians every year in finding their purpose, passion and place in the world. That's why we are celebrating the work of our amazing volunteers through sharing their stories. Once a month, we will share an Award Leader profile and provide insight behind their motivation to volunteer for the Award.
Cristie Wilson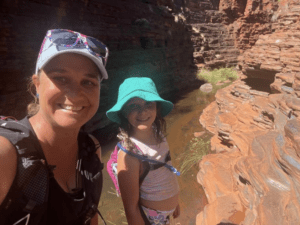 Location
Koo Wee Rup Secondary College, Koo Wee Rup VIC
Role
Year 9 Outdoor Education Coordinator, Science and Outdoor Education teacher.
Duke of Edinburgh Award Coordinator.
Involvement with the Award
Cristie has always loved the outdoors. She enjoyed participating in the Award during her time in secondary school, especially since outdoor education activities were only provided to students participating in the Duke of Edinburgh program. After completing her Award and finishing secondary school, Cristie was motivated to study Marine Biology, however changed her pathway to become an outdoor education and science teacher.
When Cristie began teaching at Koo Wee Rup Secondary College, she thought the Award would be beneficial for her students. She started the Duke of Edinburgh program in 2004 and has helped to coordinate the program ever since.
Memorable moment
Cristie is proud to have mentored many students as part of the Duke of Edinburgh program. However, recently she was delighted to hear that a past student has started her own non-for-profit movement and was asked to speak at both United Nations and European Union events.
Interests
In her spare time, Cristie enjoys running and camping. She is currently training to run an ultra-marathon!
Interesting fact
Currently Cristie is on a seven-month adventure around Australia! She and her husband, Andrew, and two children, Oscar (10) and Lexie (9) are travelling the country in their Caravan visiting many amazing locations. We're sure Cristie is using many of the skills she has learnt from her Award!
Why the Duke of Edinburgh's Award?
"It is so good for the students' resilience and motivation! Students feel more attached to a community through their involvement in the Award. It is also great for their leadership skills, which can be transferred throughout life. It helps with their pathways to further study and employment."
What would you say to someone considering becoming an Award Leader?
"Just do it! There is so much support out there. It's so rewarding to watch kids successfully do something they thought they could never do."