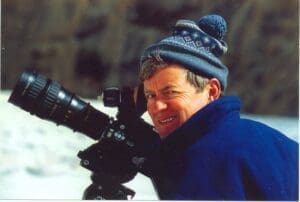 In March 1963, seventeen-year-old Michael Dillon boarded The HMY Britannia to be presented his Gold Duke of Edinburgh's International Award by HRH Prince Philip.   He was the first Australian to receive the Gold Award and was yet to realise the adventures that lay ahead for him and where the Award would take him in his life. Now an internationally acclaimed, multi award winning adventure filmmaker and one of Australia's leading cinematographer, Michael has had a lot of success in his life and career since first discovering his passion for adventure through the Award.
"We were thrown into a delicious panic. My mother and sister bought new dresses and hats and my school uniform was whisked off for dry cleaning. The big day came and groomed to within an inch of our lives we walked up the Royal Yacht's gangplank, saluted by everyone in sight, and had this wonderful 20 minutes of family time with Prince Philip.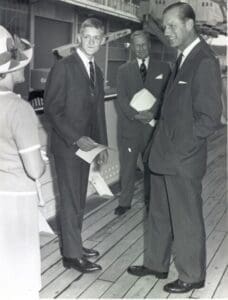 Our nerves only lasted a minute. The Prince and my father hit it off as they'd both been naval officers, and he put us further at ease with his ready wit, with a virtuoso performance, just for us, of his latest one-liners. The Sydney Opera House was being built nearby and he said he hoped they'd got the engineering right or else at the first puff of wind it might sail out to sea."
When speaking with Prince Philip, Michael was asked about his favourite part of the Award. He told Prince Phillip that the Expeditions (now called Adventurous Journeys) were the highlight.
"My mates and I would take our bikes by train to Cooma and ride them all over the Snowy Mountains, packs on our backs. Looking back at my school life, it is the memories of these trips that burn the brightest. Prince Philip encouraged me to keep on having adventures, and I did. I became an adventure filmmaker.
Some years later, I applied for a job with Sir Edmund Hillary, a hero of the very expedition (Everest Climb) that had inspired the Award. I think saying I had received my Gold Award might have helped, for I remained his filmmaker for over 25 years."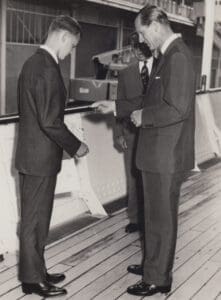 Today, Michael is the most awarded individual in his field, achieving global renown for his adventure documentaries, including "Everest: Sea to Summit", which was one of the most internationally awarded adventure documentaries ever.
Since 1972, Michael has shot over a hundred documentaries worldwide, on adventure and wildlife as well as filming occasional mainstream projects such as the US reality TV show Survivor.
Throughout his career, Michael has received many awards in recognition of his skills. These include the inaugural Australian Geographic Silver Medallion for Excellence in 1986, as well as winning nine grand prizes at international mountain and exploration film festivals international awards in the fields of Natural History, Adventure and General Documentary
cinematography and for Direction, Production and Scriptwriting. He has received two US Primetime Emmy nominations for cinematography, for his camerawork in Survivor- the Australian Outback and the National Geographic Television Special Those Wonderful Dogs. He also won Australia's top award for Documentary Cinematography, the ACS Golden Tripod Award, two years in succession, in 1985 and 1986, for a film about the Bicentennial camel race and an expedition with Sir Edmund Hillary in India.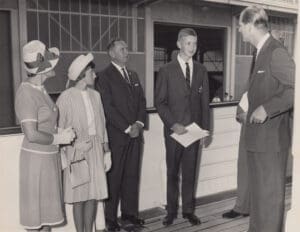 As well as living a life of adventure through his filmmaking, Michael has also continued to engage in community service since completing his Award. In 2002 he became a founding Director of the Australian Himalayan Foundation, which is dedicated to giving something back to the people of the Himalayas through education, health and other developmental projects;
"Essentially, I guess, we keep on doing The Duke of Ed all our lives. I stayed enthused by the Service side of the Award, spending time with Sir Edmund Hillary building schools, and seeing their impact. When friends and I felt it was time Australia helped carry on his work, we began the Australian Himalayan Foundation."
Further to this, in 2004, Michael became a Member in the General Division of the Order of Australia for service to the Australian Film Industry as a pioneer in adventure and mountain film cinematography, and to the community through support for international humanitarian work.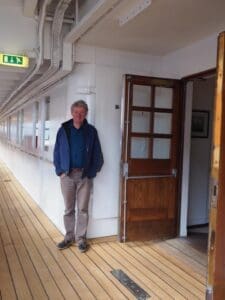 Michael has remained connected to the Award, recently (September 2018) travelling to visit the HMY Britannia - now a tourist attraction in Scotland.
"When I was last on this spot, Prince Philip gave me something- my Gold Award.
Had he still been here I would have liked, this time, to give HIM something. Maybe just some beautiful photos and videos of the life he helped me lead. A reminder to him that there are 8 million others like me, whose lives he also enriched."
To express his gratitude to the Award, Michael will join in the celebrations for the Award in Australia's 60th Anniversary next year. He has organised a "60km Challenge" over the Easter weekend 2019 to commemorate the 60th Anniversary of the Award in Australia, walking 60kms - one for each year of the Award. Michael invites other Awardees/ Alumni to join him in this challenge.
Nowadays, Michael prefers flatter terrain, recently crossing the Simpson Desert three times by foot.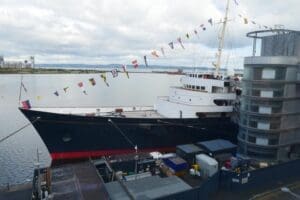 "I'm so glad the Award was part of my school curriculum. So glad, I learnt to love the outdoors, and outdoor adventure. So glad, through the Service Section of the Award, that I came to realise that helping others helps ourselves even more.
I am now just one of millions worldwide to have passed through the Award. And all, like me, would have treasured tales of how it enriched our teenage years, and how it enriched the rest of our lives. I am sure many Awardees have similar stories of life paths shaped by their Award experiences and values learnt.
My heart gladdens when I see young people out challenging themselves in the bush, on their Duke of Ed hikes. Out in the bush where otherwise they may never have ventured, relishing each others company, away from technology, getting fit, soaking up the natural world, being nurtured by it, learning to love and protect it.
Thank you, Prince Philip for your greatest of gifts, to the World, to Australia and to me."