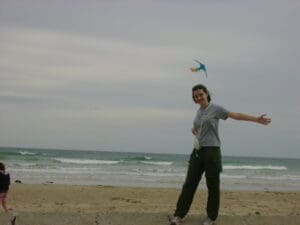 "To this day, I can still remember the school assembly when our leadership and service coordinator first told me about The Duke of Edinburgh's International Award. I was 14 at the time, actively involved in school life but looking to do more. My school was, and still is, incredibly supportive of the program. All Award administration costs at the Bronze Level were paid for by my School and Award support was available every step of the way. I was first attracted to the Award when I realised it incorporated everything I was already doing. The only Award section I wasn't very active with was the Voluntary Service. But since doing my Award, community service has become a very important part of my life.
My first volunteering role through the Award was with a local community group for children with Asperger's Syndrome. While challenging at times, the experience taught me how to better connect with people from all walks of life. Following this role, I started volunteering with the elderly. I ran lifestyle activities at a nursing home and supported seniors' events in the community. I also became an active fundraiser, leading all the pre-concert fundraising for my school's annual charity concert and running many other fundraisers. To this day, I remain actively involved in my community. I currently volunteer to support refugees and asylum seekers as well as girls empowerment programs. I want to continue these experiences and support many other groups in our community.
One of my fondest Award memories was my Gold Residential Project. For this, I worked at a beach-side summer camp for disadvantaged children. I led many of their activities and was able to act as their role model. I even learned a few new skills and tried my luck at surfing! This experience inspired me to travel overseas and work at a camp for children with special needs. Not only did I lead activities at this camp, but I also liaised with the children's families and provided personal and pastoral care. Some of the memories I have from the camp will stay with me forever and I am proud to have supported these children in the way that I did.
As with any and every adventure I have embarked on, there have always been challenges. I remember at times feeling like my goal of finishing the Award before I turned 18 was impossible. But I have been lucky to have some very supportive role models around me that helped me reach this goal. My parents have worked so hard to give me the life I have lived, and my grandparents came to Australia with nothing. They have always been huge supporters of the Award so the least I could do was make them proud!
Since completing the Award, I feel extremely blessed for the opportunities and experiences it has brought me. I am proud to have completed two degrees at the University of Melbourne, studied and worked around the world, and gained the confidence to take on several leadership positions. I have served as Peer Support Leader in high school, the Duke of Ed Award leader of my school, a Unimelb Faculty of Arts Peer Mentor and President of the Melbourne University Italian Social Club.
The Award has provided such a balance and breadth in my life. It has made me a more confident and well-rounded person who has faith in my own abilities. Even through my current role in government, I have led a range of projects to support Victoria. My managers have put my name forward for so many incredible opportunities and I feel truly thankful to have worked on and led projects related to Aboriginal, Multicultural and Veterans Affairs, events, education and training, infrastructure, grants, community engagement and more. I know the work I do has an important impact on Victoria and I am proud to help shape our great state. So, while I cannot necessarily say I am a master of any of the skills I learned, the Award has created a richness in my life and shaped me as a person. It has made me willing to give anything ago and see things through, which has helped and will continue to help me all throughout my life."