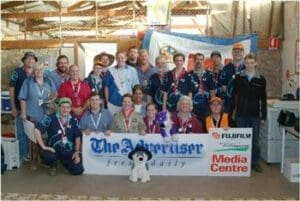 Ben Luks, Gold Awardee 2004
"Waking up at 6am is no easy task for anyone. It becomes even more difficult when you have to brace the cold and deliver newspapers through a city of tents.
But being a delivery boy was only one aspect of my job. I had scored a role as a journalist, working for the daily newspaper at the 2004 Australian Scout Jamboree. I could not think of a better way to complete the Residential Project component of my Gold Duke of Edinburgh's Award. The newspaper (suitably titled, "The Jam"), was the sole source of information for Scouts across Australia to find out about the activities of the day and learn about the adventures of their fellow youths during the epic 14-day camping trip.
Among my personal highlights, were writing stories about the celebrity guests who came to perform in the evenings (such as Guy Sebastian and Sophie Monk). I also scored the interview with 2003 Miss World Australia, Olivia Stratton, who was special guest to a group of very fortunate Scouts who invited her to their campsite for dinner.
It is priceless memories like these that remind me of the joys of The Duke of Edinburgh's Award.  Completing the Award gives youth opportunities that they would not normally experience and moments that last a lifetime. Achieving the Gold Award was just as thrilling as completing it and I am certain that Participants will discover the same as they journey through their Bronze, Silver and Gold Awards."