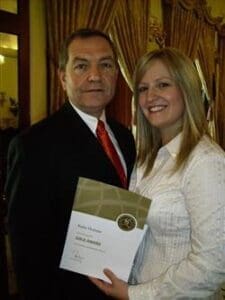 Katie Hulmes, Gold Awardee 2007
Environmental Engineer, Australian Mining Industry
"As a young girl I was always busy and often found it hard to say no to any opportunity that came my way. To see everything as an opportunity became my motto for The Duke of Edinburgh's Award, in my career and personal life.
In a ten year commitment I completed my Duke of Edinburgh's Awards from Bronze through to Gold. I was 25 when I completed my Gold and had learnt a lot about life and its challenges. In 2008 I was given the opportunity to represent Australia at the International Gold Event in Mauritius. Up until this point I had not appreciated how much the Award could change your life but attending the event and meeting Gold Award Holders from over 100 different countries taught me how unique Award holders were and the skills they held.
Since my time in Mauritius I have volunteered with Participants, trainers and Coordinators for The Duke of Edinburgh's Award in over 15 countries and have a network of friends and colleagues in many more. The Duke of Edinburgh's Award experience is much more than Bronze Silver and Gold it is a chance as an adult to help young people today realise their potential and at the same time build stronger communities around them.
The Duke of Ed taught me to harness determination, courage, commitment and passion and to use these skills in everything we do. My networks, my training and my experience with the Award has in turn helped me to be successful in my career.
After school I completed a Bachelor of Science (Geology and Geophysics) and a Bachelor of Engineering (Civil and Environmental) and I now work as a Group Environmental Specialist in the Australian Mining Sector. I worked as an Environmental Scientist and Hydrogeologist throughout my time at University allowing me to gain the hands on experience alongside the theoretical learning's at the University. This gave me the technical skills I needed to be able to undertake my role but it was the skills I was learning through involvement in The Duke of Edinburgh's Award that allowed me quick progression and recognition within my organisation.
My job allows me the opportunity to be involved in decision making, strategy development, policy implementation, research and design, compliance and in general environmental management and conservation. I have had the opportunity to build teams, be involved in mine development from exploration to operation and to lead major environmental projects. Dukes taught me to remain committed and to not be afraid to try because you never know what is around the next corner."