When Gold Award holder Simon Rounding was growing up, his family were constantly on the move, so much so he missed time at school and was struggling to fit in. Simon was offered the opportunity to take part in the Award in the UK, (where it is known as the DofE), an experience he says enabled him to develop skills he'd missed out on in the classroom and experiences that opened up his world.
Having travelled, worked for a charity and served with the British Army, Simon is back on terra firma and now works as an IT manager for Macquarie in London.
This is Simon's Award story.
"My parents lived a pretty unconventional lifestyle with children in tow and travelled here and there, usually following some type of work. Moving from place to place became standard. This was not only in the UK but also abroad. When my parents came back to the UK they eventually settled, but my brother and I were already drastically behind with schooling and there are still gaps in my education that most people take for granted. My parents settled on an estate where drugs and crime were common and at times I made some poor choices in life that I regret, luckily I made some right ones too. The challenge I thought at the time was trying to fit in.
"The Award was not offered at my school and at the time it would have been difficult to get kids to sign up; it wasn't something that seemed commonly done by kids from my social background, not in my area at least. It was definitely seen as an Award to be done by another class. I heard about the Award through an initiative that was being driven by youth workers and social workers in my area, who were encouraging kids like me to take part. So, my friend and I decided to go along and find out more about it.
A helping hand from The Duke
"It's hard to remember my first impression but the expedition side of things really caught my eye and, even though this can be the most challenging part of the Award,  it was a form of escape and gave me the opportunity to get out in the hills with a team to complete an objective.
"At 16 my name was put forward to represent the Award from my area and I was invited on the Royal Yacht Britannia when it docked in the City. There were many guests from the City, from sporting stars to politicians and I remember feeling completely out of place. After going through the protocols and saying hello to The Queen and The Duke of Edinburgh, I found myself standing out of the way. Prince Phillip approached and asked why I had been invited, probably quite politely, but what I heard was 'what are you doing here?' I answered by stating that he had invited me and that seemed to break the ice! I remember briefly chatting about what I was up to on the Award and what I wanted to do, and so on. Prince Phillip's partings words to me were 'let me know if I can help'.
"Later, an opportunity came up to go to the French Alps, which I could count towards my Award. To me the cost was huge, not only for the trip but also the equipment list, which was going to be another cost that was out of my league. I dug out the invitation I had received for that day on the Royal Yacht Britannia and wrote a letter to the Master of the Household at Buckingham Palace. I wrote something along the lines of what I wanted to do and finished off by saying that The Duke of Edinburgh did offer his help.
"I didn't mention this to anyone and a social worker who was leading the DofE got a phone call to ask if the French Alps trips existed and to see if I was genuine. I remember the social worker being very flustered that I had asked for help and she was astounded that I never thought to tell her. Anyway, good to Prince Phillip's word I received a grant that paid for the trip, including my kit. I'll never forget that.
A door to a new world
"The Award gave me many things. The expeditions gave a sense of adventure, freedom and escape. It also showed me that adults would give me freedom to prove that I was trustworthy to look after myself and be part of a team. The other sections of the Award gave me the opportunity to pursue and focus on other interests in terms of Skills, and for the Physical Recreation section to show dedication and progression. The Service section taught me how to give something back and a sense of responsibility.
"The Award also gave me the opportunity to mix with people I would not normally have done so, and that enabled me to see other opportunities in life. In later life, I joined the Army to escape my background. The skills and ideals I had obtained taking part in the Award were not dissimilar to the ones in the army, especially when it came to self-reliance and working within a team. Also, it helped to shape my sense of responsibility and duty.
Employment opportunities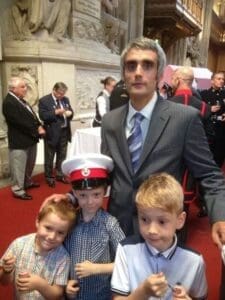 "I owe the Award many things but there are some key points that I have found are important. My experience of the Award is that it treated me like I wanted to be treated, like a young adult. The framework and support was there to help me obtain the Award but I had to drive it; that is a very adult lesson in my view. Employers want people like that. Words like 'motivated' and 'self-starter' are often used by employers and the Award can help you to develop those attributes.
"In job interviews I may have had education gaps that I am sure can be seen but I can talk about the many things I did as part of the Award either as a Participant or as an expedition leader myself. I can talk with real passion and this is something an employer is always on the lookout for.
"I am currently working for Macquarie Bank, managing the data centres in EMEA. My responsibility is not only operational, as I also work on several large and complex projects either as part of a team or the lead. My job is varied and I enjoy that I work alongside many other teams to accomplish tasks. I also have a family of my own and three young boys who have a few years to go yet before I say 'how about the DofE?' I still have a love for the outdoors and am often in the hills with the family or friends. Life is great and I am more than happy.
Challenges and rewards
"As I got older and had involvement in leading the Award, I often heard other people say 'you might as well do the Award as you're probably doing most of the requirements anyway, such as a sport and a skill and therefore you're halfway there...it's easy'. That's not my view, as I know that everyone will face challenges, no matter who they are or what social background they come from. If I was discussing the Award with someone from my social background, firstly I would say it won't be easy and the challenges will be many, but so will the rewards. I would say that it's in your hands to choose where you want to go and that the Award has the framework and people that will help you. I would also point out that I have had fun, amazing adventures and made friends for life. But ultimately the Award has given me opportunities that I didn't think possible."