Gold Awardee Kate Daine shares her 'Not so Lonely Planet' story with us after six months of volunteering and travelling in Nepal and India.
Kate a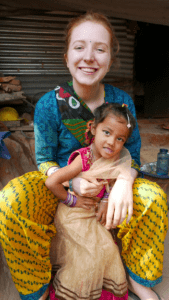 ttributes her Duke of Ed experiences in giving her the confidence to travel solo as well as the taste for adventure and the value of volunteering
"I always knew that I wanted to go on a gap year after high school, I knew that I didn't want to go from one institution to the next. So I booked my ticket to Nepal and signed up to a volunteering organisation based in Kathmandu and boarded the plane. Being a lone female traveller I learnt so much about myself and experienced a new and exciting world. I hope to share my journey with you here."
The real education begins
My first day in Nepal can be described in one word: Overwhelming. Coming from safe, organised Sydney to an almost comically chaotic Kathmandu with its unpaved roads with reckless, ruleless driving and a cacophony of noise and smells, it was a lot to take in. It was a combination of keeping an open mind, taking a deep breath and leaning and asking for help from others that got me through it. People are a big part of travel and life and nothing is more special than the people you meet and learn from when volunteering.
'Empowering Women' in Tinpiple
A main focus of my travels was volunteering in both Nepal and India as I had had a taste of volunteering through Duke of Ed, but I wanted to experience it on a global scale. In Nepal I volunteered with a Nepalese organisation which looked at empowering women in remote communities. Now, 'Empowering women' is a very broad and thrown-around term but what it actually means is to help make the lives of these women easier, provide them with the means to earn an income and encourage financial independence and liberation. I was stationed in a village called Tinpiple in the Kathmandu Valley, about 30 km from the tourist center of Thamel, or in more important measurements, a 2 hour bus ride.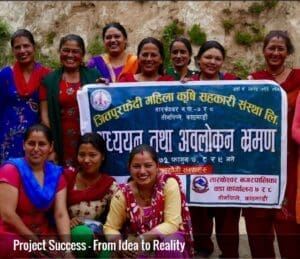 "This seemingly simple agreement is absolutely life changing for these women…"
In order to establish how I could help these women I went from house to house interviewing them, often greeted by a busy mother breastfeeding and in the middle of cooking dinner or a daughter who was called in from the field to answer my questions. Each and every woman was surprised and enthused by my interest in their lives and shared with me their story, their family and their hard-ship with selling their produce, revealing to me the unfair treatment they receive when taking the bus into the city to sell their vegetables. I witnessed the strength of these women who in their own time are part of a Women's Agricultural Cooperative allowing them to be financially independent and active with the money they make from their crops. Working alongside these women and nominated leaders of each district, we devised a verbal contract between groups of women and an allocated truck owner to take the women into the city for an agreed cost. This seemingly simple agreement is absolutely life changing for these women as they are able to save money and feel empowered by their ability to choose their mode of transport and make respectable arrangements. These women taught me a lot, about resilience, about strength in unity and how if you want change and are not opposed to new ideas and hard work you can better your situations and your neighbours.
Reaching new heights – literally 3210m above sea level
After leaving my lovely host family and finishing up volunteering I went off to trek across the Annapurna's in the Himalayas. Standing 3210m above sea level with a huge grin on my sweaty face I w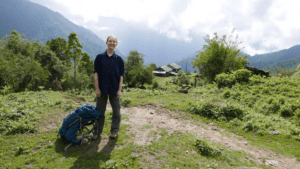 atched the sun rise over the peaks and light up the cloudy valley below. This was a moment I will never forget, indescribable, the stunningly raw natural beauty of the crisp, snowcapped mountains felt as if I had been transported into a high end nature documentary. I was so proud of myself, the day's prior of vertical hiking up thousands of slate steps, passing courier donkeys and remote mountain villages had lead me to this moment.
"It was on Duke of Ed that I became attuned and addicted to the feeling of complete speechlessness that nature can render you and of the sense of accomplishment and fulfilment."
I had felt this sensation before, it's difficult to encapsulate the feelings of complete awe of the natural untouched surroundings mixed with the sense of accomplishment one finds with doing a difficult trek. Flash back to my Gold Duke of Ed practice journey where I sat around the campfire in the middle of the Northern Territory on the Larapinta Trail looking up at the blanket of black sky speckled white with more stars than people in the world. It was on Duke of Ed that I became attuned and addicted to the feeling of complete speechlessness that nature can render you and of the sense of accomplishment and fulfilment.
Gratitude
The last part of my adventure was spending three months travelling and volunteering in India. I volunteered in Faridabad on the outskirts of Delhi where I taught maths and English to a large class of kids from all ages in the middle of a slum. My first day was both confronting and inspiring. Turning off the main street, the houses became crumbling brick and tin structures, where t caught the attention of naked children standing in doorways, men pumping water or moving a broken moped and women rolling chapati on the floor, all watching this stranger walk past them in curiosity. I was met with the restless chatter and excitement of 40 children of all ages packed into a classroom, all eager to know who I am. The kids ate up all my questions, diligently working through the work, soaking it all in and desperate for me to give them a tick next to their answers. After school we played cricket in an abandoned land plot until the sun started to set and we went our separate ways. My time with the kids taught me a lot about gratitude, as they were so grateful for me teaching them and giving them a chance at a better future. They saw the value of education and worked hard, they were also a bunch of cheeky monkeys who revealed in the fact that they could beat me in cricket! After volunteering in Delhi I travelled North, and it was travelling by myself or with new people along the way that I learn't so much about myself and the world I live in.
Protecting the Environment
Duke of Ed's value of the environment, both its beauty and importance resonated with me, especially when faced with natural environments that aren't as well looked after as our own. Standing on Lakshman Jhula bridge in Rishikesh, Northern India, looking down at the violently flowing Ganges River it is hard to avoid the pollution pooling on the banks and swirling through the murky brown water. India is slowly realising the importance of protecting their environment, however it has an up-hill battle informing their population or the effects of littering and pollution. It is my experiences of the beauty the world has to offer and the importance of preservation which has encouraged me to be more involved in environmental campaigns and support for organisations which seek to spread this awareness and value in other nations.
The Value of Volunteering
It was through my travels I further realised the value of volunteering beyond simply helping someone, not just the action of building them a house or keeping them company in a nursing home. It is the people's values, conversations, shared smiles and experiences that shows, to me, the value of volunteering. Not only can you benefit the person you are helping but you are providing them with a part of yourself and vice versa. Everyone has something to share and give and the process of volunteering puts that in motion.
Doing the Duke of Edinburgh's International Award was the best stepping stone for me to build the confidence to travel solo as well as get a taste of adventure and see the value of volunteering.
thanks
Kate Daine
Kate's blog can be read here https://katedaine.wordpress.com/