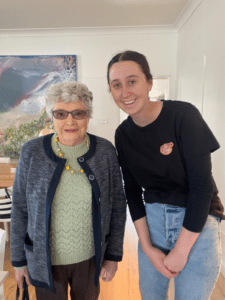 "Over the last 7 months , I have been participating in the pen pal program run through The Riverina Anglican College.
This program was created at the start of lockdown to give students a chance to connect and socialise with our senior generation, while also completing the Voluntary Service hours component of The Duke of Ed.
I struggled a bit at the start of the program because many students were not getting any replies and after a few weeks of no replies I was losing my motivation. However, we were reassured that the letters were still being read out to the elderly which kept people going knowing that someone is getting happiness and a sense of kindness out of the letters.
Eventually, I got a new penpal called Thelma.
Thelma is a lovely older lady who loves going to church, Probus meetings, socialising with her friends and spending time with her children, grandchildren and great-grandchildren.
After a month or so of communicating with Thelma through letters, I was fortunate enough to run into her at my Mum's cafe 'The Brew Wagga'. I was working when she came in but I was able to go on my break early so I made her an iced latte then I sat and had a cuppa with her. It was so nice to be able to put a face to the person who I have been learning so much about.
We spoke about work, the church that she attends, how I'm going at school and I learnt more about her late husband.
I felt like I had a better connection with Thelma through our letters after we met. This weekend I was fortunate enough to run into Thelma again at the cafe. I was unable to sit down and have a chat with her because I was very busy working but when she came in she gave me a big hug and introduced me to her friend. As she was leaving she made sure to see me and to give me another hug before she left.
I found it hard replying to Thelma each week, more particularly when I had a lot of exams and assignments which caused me to feel guilty if I ever sent them in a day or so late but Thelma was always understanding and reassuring me that she knows that I have a lot on my plate.
Overall, the effort at the start ended up paying off once I started sending letters to Thelma and I am looking forward to staying in touch with her for as long as I can."
-Silver Award Participant Layla