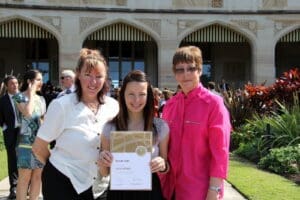 In 1967 Ruth Mitchell was first introduced to The Duke of Edinburgh's International Award in a small town called Millfield. Having some family issues at this time she found participating in the Award provided values and friendships which supported her in overcoming these obstacles. Ruth went on to complete her Gold Award in 1970, only 3 years after her introduction to the program and ever since she has been a dedicated volunteer, providing the Award to the youth at the Police Citizen Youth Club (PCYC).
Her time working for both these charities has brought about many opportunities and achievements. Ruth was awarded a certificate of recognition in 2002 at Government House, in 2009 she was awarded volunteer of the year out of 52 clubs and in 2010 she was the subject of a write-up in the Newcastle Morning herald, a praise which she is immensely proud of. This year, Ruth was awarded another certificate from Prince Edward himself where she was thanked by the Prince for her hard work and dedication to PCYC and the Duke of Ed. The list goes on and will no doubt continue to grow in the next few years. Her commitment is incredible and her belief in the Award as a positive life-changing experience has seen all 3 generations of her family go on to accomplish the Gold Award.
Fun, Friendship, Achievement and Pride
Naturally Ruth encouraged her own daughter Michelle to undertake the Award of which she completed her Bronze Award in 1986, her Silver in 1987 and she was awarded her Gold in 1988 by the late Sir Martin. Michelle volunteered at the Newcastle Police Station for her service where she worked with the dog squad, radio squad and more. Ruth remembers fondly a time when Michelle came home covered in ash after a day spent looking for clues in an area ruined by fire. She became highly recommended by the police, something which was rare for a young person of her age. In terms of sport Michelle took on roller hockey leading to her becoming an expert player in Newcastle. The camps she went on often proved challenging yet rewarding. Highlights include seeing planes come over Wollombi dropping food by parachute, going shopping on a horse and taking on the challenge of rainfall in the bush. She sums up her experience as one full of fun, friendship, achievement and pride. Much like Ruth, Michelle gained a newfound sense of achievement, confidence and self-belief. She secured a great job right out of high school which her Mum Ruth attributes to her having completed the Award.
The Road to a Career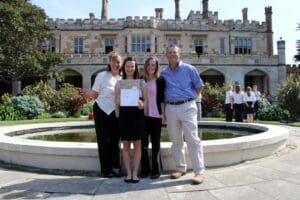 Michelle has since also motivated her own daughters to do the award and they have also gone on to tackle the Gold Award with Ashleigh being awarded hers by Dame Marie Bashir in 2012 and Emma being set to achieve hers this year. Ashleigh has since gone on to pursue a career in child services which Ruth attributes to her time with the program. She volunteered in child care for her service and for her Gold Residential component she worked in kids care at Newcastle PCYC where she bonded with the children and assisted them with all activities. Currently she is almost at the completion of her Diploma in Child Services. Emma pursued something completely different with the Award. She focused on growing as a leader and for her skill she did a Recreation Leaders course. For her Gold Residential component she ventured with Canberra Outward Bounds where she learned to work in a team and grow as a leader. She is now looking to go into university. Both sisters have found the Award as a means to growing as an individual, pursuing their careers and improving their abilities.
This family's dedication to the Award is something to be admired. The fact that each generation has gone on to achieve Gold is a feat which illustrates the timelessness of the benefits that The Duke of Edinburgh's International Award can bring about.
To read more about Ruth's personal journey as a volunteer, click here.