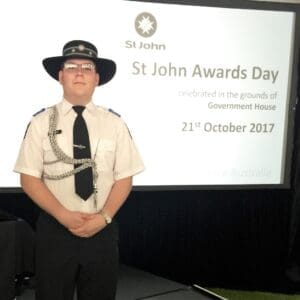 Gold Award Participant Tristian Tomlins was recently awarded South Australian St. John's Ambulance Cadet of the Year 2017
With his Gold Award well underway, an impressive resume of volunteer work and already holding an Acting Sergeant position in his division, it is not hard to see why Tristian Tomlins was awarded the South Australian St. John's Ambulance Cadet of the Year for 2017.
Tristian began his Duke of Edinburgh's International Award journey in year 9 at Christian Brothers College Adelaide and has since completed his Bronze and Silver Awards, currently undertaking the Gold Award. He has participated in the Big Trip 2017, worked helping the homeless and refugees in Melbourne, enjoyed kayaking on one of his Adventurous Journeys and recently travelled to the Philippines to provide medical expertise and teach English as part of his Gold Award Residential Project.
With an array of activities for his Physical Recreation component, and teaching First Aid with St. John's Ambulance for his Skills component, Tristian says the Award fits nicely into his busy life. He does admit however, the Gold Award is more challenging than Bronze and Silver "It can be hard to organise, there's a lot more components to it than just 25 hours of service".
Receiving the St. J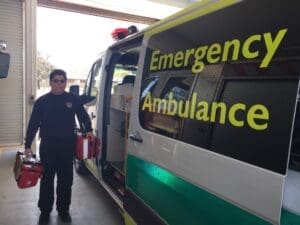 ohn's Ambulance South Australian Cadet of the Year Award for 2017, Tristian has put in an outstanding amount of work as a Cadet and first respondent with the organisation. With over 200 hours of service with St. John's in two years, it is not hard to see why Tristian was chosen as this year's candidate. He has worked as an event medic at numerous events in South Australia, including the Clipsal 500 in Adelaide. Ultimately though, Tristian puts winning the Award down to the skills he had learned as result of his Service, stating that winning Cadet of the Year was "more about the leadership skills shown within helping at events and helping other cadets".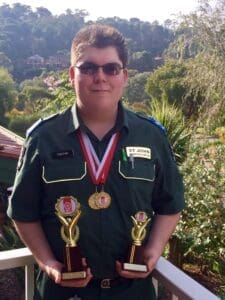 Overall, Tristian says he has gained valuable life skills through working to complete the Duke of Edinburgh's International Award; "you learn a lot of life skills while doing the Award, especially leadership and team building".
In future, Tristian hopes to become a paramedic or a critical care nurse, already completing his certificate three in health services assistance and undertaking his certificate three in basic health care later this year.
Congratulations Tristian on your well deserved Award!