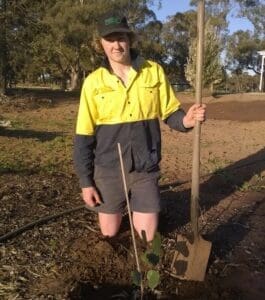 When Ronan Waters began his Duke of Edinburgh's International Award last year, he discovered he was capable of achieving a lot more than he ever thought possible. Having Dyslexia has meant Ronan often finds school to be extremely challenging and at times struggles to do what is required of him academically. His mother, Fiona Waters has seen the affect this has had on his self-confidence, until he began his Bronze Award when he was introduced to experiences and opportunities he loved and had a lot of success with.
"He is a 16-year-old whose literacy and numeracy levels are quite low due to his having Dyslexia. He is the most courageous, funny, caring and resilient person I know. For ten years, he has gone to school and had to read and write for six hours a day and be asked to do tasks that are not possible because of the way he processes information. He has had limited academic success. Yet he smiles and returns back there. Last year he was given the opportunity to do his Bronze Award. He was able to complete all four areas with ease and success. I could see the affect this had on his self-belief, motivation and enjoyment of life. For once, he was the high achiever, people outside of school valued him and he was able to see the worth of helping others and contributing to his community in his own individualised way. I will forever be grateful for the effect this had on him and on his future." – Fiona Waters.
Ronan lives with his four brothers and parents in Deniliquin, NSW where he helps his family run their dairy farm (Willow Dell Dairy) in his time away from school, and plans to have a future career in farming. For his Service Section of the Award Ronan planted trees for local farmers, having an interest in environmental care and helping to protect native lands and farmlands.
"I think it's important because I care about the future and what happens to the environment. 700 trees are a lot for farmers to plant and my cousin Billy, who also did the Duke of Ed, and I spent a lot of hours doing this. I am still committed and water the trees for 4 hours every Sunday at the moment because of the drought conditions."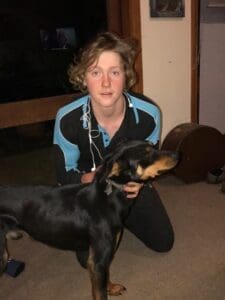 For his Skill Section of his Award, Ronan decided to learn to be a dog trainer, as he saw this to be a valuable skill that would help him in his future farming career.
"I plan to work on a station and dogs will not only provide great company but are also really useful- they're another labor unit when getting sheep and cattle in. I loved working with the dogs at the sale yards as they knew exactly what their job was and what was expected of them. I hope to use these skills with my work dogs."
For his Physical Recreation Section of his Award, Ronan competed in the great Victorian bike ride, Victoria's biggest annual bike riding festival that goes for 8 days and spans over 500km. Ronan spent 4 months training for the big ride as well as supporting and teaching others to ride in preparation for the event.
"My biggest Award challenge was training to go on the 500km bike ride, but I had an end goal in sight! It's great to be part of a team whilst still racing against yourself. The hills, rain and conditions were hard but that made it all the more worthwhile. I love that this is a skill I am good at and can easily do. I also liked being a leader in the group and helping the younger riders."
Through doing the Award, Ronan has been exposed to numerous opportunities outside of school that have been highly beneficial to his future life and work and have had a positive influence on his self-belief.
"I loved meeting new people, being out of my comfort zone, being outdoors and developing skills in areas that I enjoy. The Award has given me confidence and reassured me that I am capable of so much. I may not able to achieve as highly at school work but I can offer a lot in other areas. I was able to show people how to ride bikes well, to help them and lead people. I got to learn skills which will help me in the future. I would recommend the Award to others because you can decide how you want to get the Award. You can challenge yourself whilst having fun and gaining new skills. It gives you a chance to try different things and get better at the things you like."